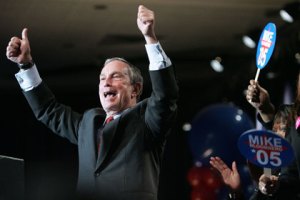 Here's another perspective on Michael Bloomberg sinking to the lowest approval rating of his second term.
In a Quinnipiac poll released on March 30, 2005—during Bloomberg's first term—his approval-disapproval rating was 46 to 41 percent. In today's poll, it's 64-28.
"This is crazy!" said Democratic political consultant Joe Mercurio. "He hasn't even done a media campaign."
Mercurio noted that subway fares and taxes are about to go up, and said, "In the middle of all that, his approval rating is ridiculously high."
"I don't see how he loses," he went on. "He's 31 points higher than he was four years ago, and [shortly after that] he won in a landslide."
Asked about Bloomberg's numbers dipping below 50 percent in a match-up against Democrat Bill Thompson, Mercurio said he doesn't think 49 percent is a particularly low number for a non-Democrat, and there is still time for the mayor's campaign to spend money and improve those numbers.