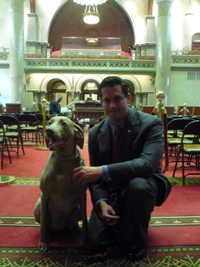 ALBANY—Before his chamber began debating this year's $131.8 billion budget, I asked Assemblyman Greg Ball how the investigation was proceeding into the dead goat found outside his house.
"It's going well," he said. "Every day I come home and look at the end of my driveway. And I've got a shotgun under my bed now."
I made a joke about Kirsten Gillibrand. He laughed.
"Only I moved it there instead of moving it away," he said, noting that it's a 12-gauge Benelli. "It was in the corner, now it's 20 feet closer."