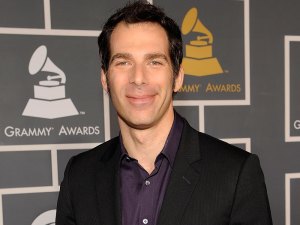 Yesterday, Advertising Age's Nat Ives broke the news that Alpha Media is folding Blender and moving Joe Levy, the magazine's editor in chief, over to Maxim. This move is displacing James Kaminsky, who's held the job as capo di laddie since 2007.
Being editor in chief of Maxim seems a bit like being the keyboardist for the Grateful Dead or the drummer for Spinal Tap: It's a sweet gig … for as long as it lasts.
Since the U.S. edition of Maxim was launched 12 years ago, the magazine has gone through nine top editors (10 if you include the hamster) in its quest to combine the dewiest WB actresses with the laciest lingerie. By way of comparison, GQ has had two editors in that time—Jim Nelson replaced Art Cooper, who died in 2003—as has Esquire, whose editor David Granger replaced Ed Kosner in 1998. (O.K., maybe 2.5 if you include Randall Rothenberg's brief tenure as "acting editor.")
In April 1997, the New York Daily News' Keith Kelly (yes, that Keith Kelly) reported that Felix Dennis was launching Maxim, "a bible for the Regular Guy" with Clare McHugh as editor in chief. "I think having a woman editor is an advantage you can get away with a lot more," Ms. McHugh told Mr. Kelly.
She was gone seven months later (again, per Newser Kelly), having, "resigned from Maxim to pursue other projects and directions."
Next up, Mark Golin (after a short interval of Keith Blanchard—remember that name!—working as acting editor), who took over the magazine in 1998, bringing it to new prominence, increased sales and headlines like MAXIM: IF IT ONLY HAD A BRAIN and Maxim's sometimes amusing, always dumb.
By February 1999, Mr. Golin had jumped ship to Details and was replaced by a hamster named Sammy.
Sammy's brief and ultimately uneventful run ended when his job went to Mike Soutar.
By April 2000, Mr. Soutar had left to return to London and become managing director of IPC Music & Sport, a rival magazine company.
With Mr. Soutar safely back in Blighty, Keith Blanchard was back on top at Maxim, where he stayed for the next four years—a good run, all things considered.
In July 2004, David Carr reported in The New York Times that Mr. Blanchard would be replaced by Ed Needham, late of Rolling Stone. Two years later, The Guardian was reporting Mr. Needham's resignation and return to England.
Mr. Needham was followed by Jimmy Jellinek, who moved from helming Maxim's little brother publication Stuff in May 2006. His tenure lasted just over a year when he was replaced by James Kaminsky, in the job until yesterday, when the departing editor told Keith Kelly (now of the Post, thank you very much), "I wish everyone working at the magazine the best."
Which brings us to Mr. Levy, who will now oversee Maxim and maxim.com according to a memo from Alpha Media Group CEO Stephen Duggan.
We wish Mr. Levy luck.