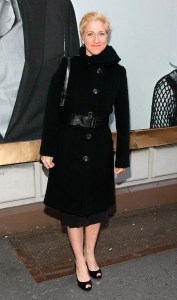 At an intimate screening of Nurse Jackie, Showtime's new dramedy starring Edie Falco as an experienced nurse with a speed-snorting habit, on Thursday, March 26, the publicist Peggy Siegal thought it would be fun if everyone brought their favorite doctors along for the one-hour preview and the dinner following.
"I don't know, I just thought it would be funny!" Ms. Siegal explained to the audience. "And this is Bernie Kruger, he's my doctor! He's the one who keeps me looking this way."
Matthew Blank, the CEO of Showtime, got up to introduce the show and asked to see a show of hands of how many doctors were actually in the room. Several hands went up. "And they're all mine!" joked Ms. Siegal. Alas, Blythe Danner and Alan Alda, who were seated in the back of the room, arrived without their doctors.
Ms. Falco was not in the screening, but arrived at the dinner afterward at the Hotel Plaza Athenee, where a caravan of yellow cabs brought over the small audience after the screening.
"Jackie's just kind of a regular gal. She's just trying to get through her life and she has ways of dealing that are kind of unconventional," Ms. Falco, dressed in slim black pants and floral silky top, told the Daily Transom of her character. Did Ms. Falco visit New York hospitals to prepare for the role?
"I actually did, but the most helpful thing I did was all the medical documentary shows I had watched on television for years. I am addicted to them. I don't know what that says about me, but it's sort of funny that I ended up doing this show," she said. "Going to New York hospitals was less helpful than I thought it would be. I just felt so in the way. It's an emergency room—people are not happy to be there."
And were emergency room patients ever star-struck by Carmella Soprano standing over them as the real doctors worked? "Oh yeah, all the time. Like, 'What the hell is she doing here?'" she replied.
Nearby the chef Rocco DiSpirito was seated with former Fox News contributor Bill McCuddy.
"I like hospital-based dramedies from St. Elsewhere all the way to Scrubs. And I like Edie, I think they made her an interesting character," Mr. DiSpirito told Daily Transom. "It's nice to see her back on TV. She has these great big blue eyes—they're impressive."
We wondered if the chef can relate to Nurse Jackie as she pulls long shifts with the assistance of little packets full of powdery pick-me-ups. Naturally, he laughed and dodged.
"I would say nurses do something slightly more heroic than chefs," he said. "I have done the Heimlich a few times though. It's always something to do with chicken for some reason."