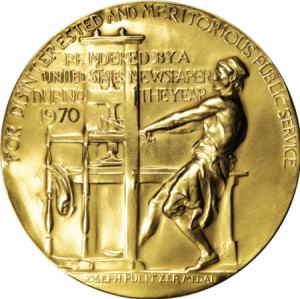 In just about three weeks, the winners of the coveted Pulitzer Prizes will be announced! But, wait a minute: By now, shouldn't we know who the "nominated finalists" are?
Sure, anybody can send stuff to the committee for consideration, but the board designates a certain number of finalists to each category before deciding the final award, and every year for the last six years, it has fallen to industry maven Joe Strupp of Editor & Publisher to tell us who they were.
This year, the Pulitzer committee met the first week in March. In the past, we've seen Mr. Strupp's dispatch shortly after that meeting. So where is it, now that it's about to be April?
"It's hard to describe," said Mr. Strupp in an interview. "There are so many other variables. It hasn't been the priority that it was in the past because there's so much going on and it's not a priority for people in the business because there's so much else going on. And perhaps the tightening of security around the leaks is better."
That's true! Everyone in newspapers are thinking about other things like, well, survival.
But still: Had Sig Gissler, the Columbia professor who administers the prizes, placed some kind of protected glyph on the finalists' files that is plus-two against Joe Strupp?
"We haven't done anything differently really," said Mr. Gissler. "The jurors sign a pledge to maintain confidentially and we've done it for many years. I do appeal to their integrity."
Maybe that appeal was a little more forceful this year?
"Not any greater than in past years," he said.
Oy vay!
"As you pointed out, the news media has a lot of things to engage in these days," he continued.
Or else, this is what Pulitzer Day means to us now: Nice work, buddy, now give us something that will sell!
"On the one hand, it might be less interesting to leak finalists, but you might see more interest in the awards when they come out because it's gonna be good news and everyone needs good news," said Mr. Strupp.