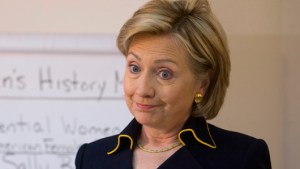 When she agreed to serve as Barack Obama's secretary of state, there was some question about what it would mean for Hillary Clinton's political future – and more specifically, if she'd even have one.
Outside of the early days of the republic, secretaries of state do not have a track record of advancing to the presidency, or to any other prestigious elected posts. And they often don't even last for a full presidential term, let alone two, meaning that Clinton risked finding herself out of a job – and without the public relevancy of a Senate seat to fall back on – long before the Democratic presidential nomination next comes open, presumably in 2016.
It seemed unfathomable that the ambitious Clinton, far too young (61) to be excluded from '16 conversations, would do anything that might seriously jeopardize the possibility of running for president again some day, but already, less than two months after taking her new job, the logic behind Clinton's move is coming into focus: A new NBC News/Wall Street Journal poll released last week found that 59 percent of voters now have a favorable opinion of Clinton, with only 22 percent viewing her unfavorably – "an all-time high" for her, as the newspaper put it.
By removing herself from the partisan warfare of the Senate and instead traveling the world as a representative of the United States, Clinton is giving voters an opportunity to view her in a much more unifying, and far less polarizing, light. The position, at least six weeks in, is elevating her stature at home. It seems doubtful Clinton would be enjoying the same bounce if she were in the Senate, arguing with Republicans about stimulus packages, bailouts and earmarks.
This bodes very well for the '16 aspirations that she almost certainly harbors. Generally, it's the Republican Party that nominates whichever candidate is next in line, but that tradition has also extended to the three Democratic vice presidents – Hubert Humphrey, Walter Mondale and Al Gore – of the modern era. But while it's not out of the question that he'll end up running, common sense suggests that Joe Biden, who will be 73 in '16 and who seems more interested in serving as Obama's counselor than in leveraging his office for political positioning, has already waged his final presidential campaign.
This creates an opportunity for Clinton to position herself as the de facto vice president and to use her job, as Al Gore once did with the vice presidency, to build her reputation and establish herself as the logical standard-bearer for the post-Obama Democratic Party. If the polling numbers that she has racked up early in her term hold (or even grow), it will set her apart from the other Democratic aspirants who will inevitably emerge over the next few years. At least potentially, she could leave her post sometime in Obama's second term and then jump into the presidential race as the clear front-runner she was at the start of the '08 cycle – except this time, she'd be far less polarizing (and it's doubtful she'd have another Obama to deal with).
She also has the opportunity to build a strong relationship with Obama, one that might give him the kind of trust and confidence in her that would lead to him promoting her as his successor the same way Bill Clinton pushed for Gore. (Again, this assumes that Biden will not run himself.) In fact, if Biden were to decide in 2012 that he doesn't want to serve another term as VP, Obama would be in position to choose a replacement who would be viewed as his handpicked choice for the '16 nod. And, if she and Obama develop a strong rapport between now and then, Clinton, with her newfound popularity and image as an international leader, would be the logical pick.
Yes, it's ridiculously early. Clinton has toured Europe and the Middle East, but she hasn't really done much yet. Nor has Obama laid out his complete foreign policy blueprint. Going forward, Clinton's popularity will largely hinge on the perceived success of Obama's overseas agenda, and it's only too easy to envision public opinion turning against her. What if the influx of troops in Afghanistan (where Obama's long-term strategy is still far from clear) leads to chaos and headlines reminiscent of Iraq in 2005? And what about Iraq, where 35,000 to 50,000 troops will be left even after the U.S. "withdrawal" is completed? And so on.
But Clinton has already demonstrated how her new job has the potential to enhance her standing in advance of the next open Democratic contest. Not bad at all.