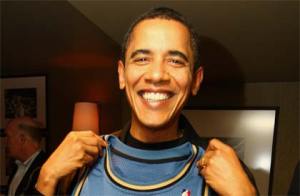 He may have authored one of the most magical Cinderella stories in political history, but when it comes to college basketball, Barack Obama sure likes his chalk. For the second consecutive year, Obama has released his complete NCAA tournament picks—and once again he's prepared a bracket that tilts decisively toward the tops seeds and that predicts none of the Vermont-caliber underdog magic that gives March Madness its name.
The president's two first-round "upset" picks really don't amount to much. He has the 11th-seeded Temple Owls, a streaking squad that won last weekend's Atlantic-10 tournament, knocking off Arizona State, a team whose down-the-stretch underachievement culminated in an embarrassing Pac-10 title game loss to USC (a team that otherwise wouldn't have made the field).
Obama also likes 11th-seeded VCU over UCLA, but there's really no boldness here, either: VCU, which beat Duke out of an 11-slot two years ago, is a trendy upset pick and hails from the Colonial Athletic Association, which produced a surprise Final Four entrant, George Mason, in 2006. Meanwhile, UCLA badly misses Kevin Love and Russell Westbrook, who helped lead the Bruins to last year's Final Four.
Surely, Obama knows better than this. His own brother-in-law, first year Oregon State coach Craig Robinson (whom Obama mentioned twice as he unveiled his selections to ESPN's Andy Katz), played on the 1983 Princeton team that, after besting North Carolina A&T in a play-in game, upset Oklahoma State in the first round of the tournament before falling just short to Boston College in the next game. But Obama's bracket shows no love for, or belief in, the little guy. Maybe former RNC spokesman Alex Conant was right when he wrote this week that the No. 1 myth about the president is that he's bold.
Then again, Obama was equally timid last year, when he predicted that three of four No. 1 seeds would make the Final Four and that the top two seeds would each make the Elite Eight in three of the four tournament regions. (And you get the feeling he would have picked all No. 1's if he hadn't been campaigning for the Pennsylvania primary at the time, making it practically a necessity for him to pick fourth-seeded Pittsburgh to defeat top-seeded Memphis and to make the Final Four.) And last year, for the first time since the tournament expanded to 64 teams, in 1985, every No. 1 seed made the Final Four.
This time around, Obama's Final Four again includes three No. 1's—Louisville, North Carolina and (again) Pittsburgh. His "dark horse" pick: second-seeded Memphis. His Elite Eight, once again, features the top two seeds in three of the four regions—with third-seeded Syracuse matching up against Carolina in the other one. Evidently, Obama doesn't believe that the admonition that you'll go broke playing favorites—a lesson he himself taught to Hillary Clinton's top backers last year—applies to sports.
Of course, it's also possible that, like with his selection of Pittsburgh last year, some political calculations—the sort that have led the White House to plan Obama's travel schedule around 2012 imperatives—are at work here.
For instance, the president has the four California entrants all flaming out in the first round. Some of this is only common sense—few believe that the Matadors of CSU-Northridge will defeat Memphis and join Richmond, Coppin State, Santa Clara and Hampton as the only No. 15 seeds ever to knock off a No. 2—but it wouldn't have been unreasonable to predict that UCLA, a seven-point favorite in Vegas, will handle Virginia Commonwealth. (In fact, this would have been consistent with Obama's predilection for chalk.) And yet, Obama chose this game to make one of his only upset picks. The fact that Virginia is a premier swing state while California is eternally in the bag for the Democrats seems to put this pick in perspective.
In fact, perhaps we can see the president's mental gears churning in the handwritten bracket that the White House (perhaps in a moment of carelessness) saw fit to post on its Web site.
Just consider some of Obama's handwritten "corrections." Initially, he picked Marquette to knock out Missouri in the second round. Then, he seems to have come to his senses: Marquette is a Catholic school with a limited statewide fan base in a staunchly Democratic city (Milwaukee), while Missouri is the flagship institution in a pivotal swing state that Obama narrowly lost last fall. Accordingly, Obama crossed out Marquette and replaced it with Missouri. I can't think of any better possible explanation for this switch.
Similarly, Obama twice crossed out initial picks to substitute in North Carolina. In the Final Four, he originally had the Tar Heels falling to Pittsburgh, but then changed his mind. And in the national championship game, he first picked Louisville before making the switch to Roy Williams' squad.
Both moves reek of politics. North Carolina, which Obama last fall became the first Democrat to carry since Jimmy Carter, is of supreme importance to his 2012 strategy. Meanwhile, Pennsylvania has shifted from the swing-state status it has long enjoyed to a solidly Democratic designation, while Kentucky was one of the most inhospitable states to Obama last year. Better for Obama to ask Pennsylvanians for forgiveness later (and write off Kentucky altogether) than to risk his tentative inroads in North Carolina.
Vegas lists UNC as the 5-2 favorite to cut down the nets and UNC is the dominant school in a state that is among the most crucial to Obama's re-election prospects. Given his love of short odds and his desire to win in 2012, it's no wonder Obama picked the Tar Heels to win it all.