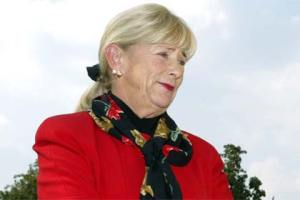 Officially, it was in the interest of promoting a "fair, open and inclusive" process in the run-up to the spring 2010 state convention that ten Democratic members of New York's congressional delegation wrote to June O'Neill, their state party's chairwoman, late last week to urge her not to expend party resources on Kirsten Gillibrand's re-election efforts.
More significantly, though, their epistle served as a vivid reminder to Ms. Gillibrand (in case she needed one) that her January appointment to the Senate may not shield her from a serious challenge from within her own party next year.
To her credit, Ms. Gillibrand has recognized this from the moment David Paterson anointed her. She's spent the past two months divorcing herself from the culturally and fiscally conservative postures that keyed her success in the rural 20th District but which are poisonous in statewide Democratic politics. This has provoked the inevitable charges of spineless pandering, but – as valid as they are – these cries figure to lose their bite as Ms. Gillibrand racks up a consistently left-of-center voting record in the Senate.
She has also embarked on the obligatory "listening tour," a concept first popularized by Hillary Clinton, Ms. Gillibrand's Senate predecessor, who used it to overcome carpet-bagging suspicions back in 1999. As with Mrs. Clinton's tour, Ms. Gillibrand's has little to do with listening. The point is to be seen – on television and in news photographs – appearing to listen, the better to create a humble image with impressionable voters. Perhaps the sentiments that voters express to Ms. Gillibrand are important to her. But it doesn't really matter; this is a media strategy.
On this front, Ms. Gillibrand hasn't been as successful as Mrs. Clinton, simply because her arrival in any given city or town – unlike that of the former First Lady – doesn't by itself constitute a major cultural event. So her tour, and the images of Ms. Gillibrand earnestly listening the concerns of Average People that it has inevitably produced, hasn't enjoyed saturation coverage, locally or statewide.
Consequently, the polling news for Ms. Gillibrand has been mixed since her appointment – keeping the idea of a primary challenge alive for a host of opportunistic Democrats.
A Marist survey released earlier this month found that a plurality of voters (27 percent) rated her senatorial performance to date as "fair," while 50 percent didn't yet know enough to form an opinion. In a head-to-head primary match-up against Long Island Rep. Carolyn McCarthy, the crusading gun-control advocate who has been toying with challenging Ms. Gillibrand next year, the appointed senator led by a statistically insignificant three points, 36 to 33 percent.
And so, besides Mrs. McCarthy, we've heard rumblings from Representatives Steve Israel and Carolyn Maloney, both of them spurned by Mr. Paterson in the original appointment drama, and even Scott Stringer, the Manhattan Borough President, about taking on Ms. Gillibrand in the 2010 Democratic primary.
Publicly, they justify this talk by an expressed desire to ensure that New York is represented by a thoroughly progressive senator, which Ms. Gillibrand, based on her record in the 20th District, isn't. But, with the exception of Mrs. McCarthy, who only entered politics after the slaying of her husband in 1993 and who has never previously jockeyed for higher office, their motivation is far more human: opportunities to run for the Senate almost never come around, so if there's even a slight opening, it's best to exploit it for all it's worth.
It is Ms. Gillibrand's perceived vulnerability, much more than her ideology, that these Democrats are responding to. For Ms. Gillibrand, the solution is simple: develop some political muscle and flex it.
There are signs that she's on her way to doing this. For one thing, that three-point edge of Mrs. McCarthy actually represents improvement from a Quinnipiac poll conducted two weeks earlier, which actually put Mrs. McCarthy in the lead by 10 points. To the extent this represents real momentum, and not just statistical variance produced by different polling methodologies, it suggests that Ms. Gillibrand, as she settles into her new role, will slowly but steadily build support among Democrats – and a wide lead over prospective primary foes.
Then there's the money factor: Ms. Gillibrand can raise prodigious amounts of it, and as 2010 approaches, she'll enjoy more help than ever. National Democrats, who hate primaries and recognize that Ms. Gillibrand's seat could actually be won by a Republican under the right circumstances, are already treating her like an incumbent, no matter what the state party does. This means fund-raising help from party big-shots – House Majority Leader Steny Hoyer has already stepped up– and backroom pressure on her prospective intraparty rivals (and their patrons) to cease and desist.
This pressure, coupled with improved poll numbers for Ms. Gillibrand, would probably be sufficient to dissuade Mr. Israel, Ms. Maloney and probably Mr. Stringer from running. (Although Mr. Stringer, who wouldn't have to give up his office to compete, might see a benefit from running anyway, calculating that a loss would still build name recognition for a future bid. But he doesn't loom as the same kind of threat to Ms. Gillibrand that Mr. Israel and Ms. Maloney do.)
That would still leave Mrs. McCarthy, whose interest in the race doesn't seem to hinge on overtly political factors. But a dramatically strengthened Ms. Gillibrand, backed to the hilt by national Democrats, could very well prompt Mrs. McCarthy to be pragmatic when decision time finally comes. Sure, she could run as a protest candidate, but defeat would mean the end of her career in the House. Or she could take a pass, continue her congressional career and take solace in the fact that – no matter how shallow Ms. Gillibrand's motives – New York's new senator finally got right on gun control.