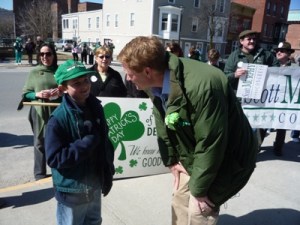 HOOSICK FALLS—Scott Murphy claimed that Saturday was just another stump day in his campaign for the recently vacated Gillibrand seat in Congress, and that his message to voters hadn't changed.
"We've been running one campaign the whole time," Murphy told me when asked if things would change now that an independent poll shows him within four points of his opponent, Assembly Republican Leader Jim Tedisco. "We've been on the same message from the beginning, to the end. We're not going to say different things to different people. What our message is, is my experience building small businesses, and taking those kinds of problem-solving solutions to Washington."
Less than an hour later, the subject line of an e-mail his campaign sent proclaimed: "4 points and closing!"
Murphy isn't supposed to be this close. Anywhere near this close.
Tedisco, an outspoken fixture in New York's conservative-leaning 20th Congressional district, has had 30 years of experience as an elected official – and the name recognition that goes with it. Murphy, by contrast, hadn't found his way onto the radar screens of some of the 10 Democratic county chairs in the district until a matter of days before they nominated him.
There are 70,000 more enrolled Republicans than Democrats in the district, and outside some of the small cities, elected Democrats are as hard to find as green grass this time of year. And conventional wisdom says that the Democrats will have no answer to the Republican apparatchiks who will, theoretically, crank out votes in a special election in which no one expects turnout to exceed 30 percent.
"It's going way better for the Democrats than I ever would have thought," said veteran political consultant Joe Mercurio. (Mercurio still thinks Tedisco will win, but contrast this with a month ago when he told me, "I don't see how the Republicans can lose – this is a demographic race, not an issue race.")
All the major local unions have endorsed Murphy, and their members have formed the bulk of his ground forces. His campaign is run by transplants provided by the Democratic Congressional Campaign Committee, which Representative (and candidate recruiter) Steve Israel tells me is now "all-in" behind Murphy. There are a few holdovers from the organization of Senator Kirsten Gillibrand, the former occupant of the House seat who remains wildly popular within the district and who cut an ad for Murphy last week.
The Republicans have tried to attack Murphy, who worked for two Democratic Missouri governors and is now a venture capitalist, for his ties to the Democrats in Washington – a Pelosi liberal! – and to paint him as elitist, one of those Wall Street guys who screwed us. "Us" being people like Tedisco's parents – a blue-collar father and a stay-at-home mother who instilled in their son a desire for something better and remind him of what he's fighting for.
It's a completely intuitive strategy, given Tedisco's homer credibility. But the message hasn't taken. In fact, Tedisco has stumbled over these past few weeks – the biggest block being his unwillingness until March 17 to state clearly how he would have voted on the federal stimulus package. (In the end, he said no, and then acted as if he would never have dreamed of voting otherwise.)
When Murphy formally announced his candidacy in Glens Falls five weeks ago, he seemed wide-eyed bouncing from handshake to handshake in his packed headquarters. He read his remarks that day from a prepared script, and assiduously avoided questions from reporters.
Murphy's prior experience in government never really required him to be in the spotlight, and it shows. He's smart and charming in a patrician sort of way. But the fire in his speeches, when there, comes from the mind and not the belly. To a lesser extent, the same is true of his interactions with people he doesn't know – the lingering shyness of someone who exposes himself to scrutiny when it's necessary, but isn't necessarily pleased with the attention. Call it mid-western modesty. Or think: John Kerry, but younger and with red hair, and usually no tie in his blue shirt collar.
Two weeks ago, Murphy went door-to-door on Barcelona Drive in the Clifton Knolls section of Clifton Park. It was the first mass-produced subdivision in southern Saratoga County, setting the pattern for other carbon copies of the American dream that followed. As a result, its residents tend toward the geriatric. No one who answered their door looked to be under 40.
When Murphy knocked on doors, he let Representative Paul Tonko, of Amsterdam, do the introductions.
"Hi, I'm Paul Tonko, the congressman from next door, and this is Scott Murphy," he said at one door.
"I'm running to replace Kirsten Gillibrand as the congressman from here," Murphy added.
He was welcomed warmly at the O'Sullivan home, where he chatted with retirees Joseph and Joan in their bathrobes.
"We've got five kids, and six Ivy League degrees," Joseph said.
"That's America," Murphy replied. "My grandfather dropped out of high school, my dad did a little college and took a job as a postal worker and they sent me to Harvard."
Later, Joan O'Sullivan told me by phone that both she and her husband would vote for Murphy.
"I thought that it was a nice touch," she said. "We don't see people here too much coming to the door. We both appreciated it very much."
But with Murphy, retail politics is still a relatively deliberate process.
When Tedisco was doing his own stumping last week, he ran ahead of his top aides (and his wife Mary) going door-to-door in Country Knolls South, a later-vintage subdivision by the same developer. People knew who he was, even though he has never represented the area in his 30 years as an elected official.
"I like Jim, he's got a good record down at the Capitol," said Fernando Ferreira, who was clearing brush in his yard when Tedisco walked into his garage and knocked on the door. "You need that government experience."
At one point, Murphy arrived in Hoosick Falls not long after Tedisco had been knocking doors in Clifton Park. He marched behind a banner and amid a throng of sticker-wearing supporters. The route ended in front of the village police station in this mill town that long ago lost its mill. A boy of about seven came up to Murphy and told him he had run for school council.
"Well, I'm running for Congress," Murphy replied. "And that means there are about 700,000 voters over 10 counties that I've got to meet and get my message to."