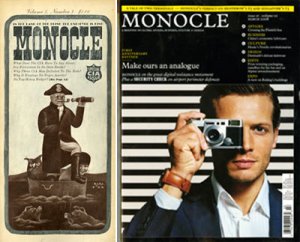 Before there was Monocle, the "global briefing covering international affairs, business, culture and design" (See: Moneyed Monde of Monocle Ignores Market Roil), there was Monocle, "a leisurely quarterly of political satire," whose slogan was "In the Land of the Blind, the One-Eyed Man is King."
Started by The Nation's publisher emeritus Victor Navasky and some of his Yale law school friends in the late 1950s, the original magazine became a petri dish for a new strain of anti-establishment irreverence that was just beginning to bloom. As a fond appreciation of the magazine by Design Observer's Steven Heller points out, among the magazine's contributors were Calvin Trillin, Dan Wakefield, Edward Sorel and Robert Grossman (who contributes illustrations to The Observer).
According to Tyler Brûlé, his magazine, which launched in March 2007, was originally supposed to be called The Edit, but he was unable to acquire the name since "someone in Australia had it [and] they wouldn't sell it."
"Richard Spencer Powell, our creative director, and I were sitting in my office looking at the email that said we couldn't get the name and it was one of those three minute brainstorms," he said. "I said we need something that on the one side is about our focused vision and somewhat singular view of the world, but we wanted something that was a little bit establishment and sounds like it's been around for a while."
When reached by The Observer, Mr. Navasky said that when Mr. Brûlé's magazine was announced, "I got a half-dozen emails and calls saying, 'Are you gonna sue?' 'Did they get your permission?' or whatever."
"I don't believe in suing," he continued. "We never trademarked the name."
Mr. Navasky said that no one from Mr. Brûlé's group contacted him about the use of the name. "As a courtesy, one would have thought [they would]."
"They seem to want to put out a classy magazine that covers the waterfront," he said of the new Monocle. "I didn't get the sense that they were in any way, shape or form trying to imitate anything Monocle had done, so I didn't have any idea that they knew about it or not."
Mr. Brûlé said he was aware of the original Monocle, but called the shared name "a happy accident."
According to Mr. Navasky's memoir, A Matter of Opinion, "At Monocle our theory had been that a magazine's price should reflect its value. Thus, if one issue was worth $10, we should charge $10, but if we deemed the next issue inferior, thinner, or whatever, and only worth 50 cents, we should charge only 50 cents." Copies of the magazine can still be found on eBay, where they're going for $14.95.
Compare that with the newer magazine's $10 cover price in the U.S., and subscriptions that go for £75 (about $110)—but you do get a handsome tote bag and access to the magazine's Web archive.
"People say Monocle was ahead of its time," Mr. Navasky said. "We charged $7.50 for 10 issues, or $5 for a lifetime subscription, so by some kind of metaphysical formula, we're still publishing."