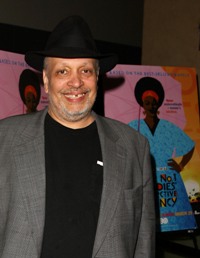 6:30 p.m. Michael Riesman and Andrew Shapiro perform Phillip Glass' score to Tod Browning's 1931 Dracula (in it's entirety) at Le Poisson Rouge , 158 Bleeker Street. Performance is accompanied by a screening of Browning's Dracula, starring Bela Lugosi. At 158 Bleeker Street, admission is $15.
6:30 p.m. Aperture and the New York Public Library host Michal Chelbin as part of their collaborative "Photographer @ the Library" lecture series, at the New York Public Library Mid-Manhattan Branch, 455 Fifth Avenue. Tickets are free.
6:30 p.m. A screening of documentary film called: BANANAZ, about the band Gorillaz! will screen at Apple Store SoHo, 103 Prince Street. Admission is free, a Q&A with the director Ceri Levy will follow the film.
6:30 p.m. The New York Historical Society hosts Author Jane Kamensky and New Yorker contributing writer Jill Lepore to discuss their new novel Blindspot. At 170 Central Park West and 77th Street, admission ranges from $8-$15.
7 p.m. Walter Mosley will read from his novel The Long Fall at Barnes & Noble about a "about a throwback gumshoe navigating the new New York." At 33 East 17th Street, between Broadway and Park Ave South. Tickets are free.
7 p.m. Field Magazine hosts "40th Anniversary Reading" featuring commemorative readers: Martha Collins, Angie Estes, Cathy Park Hong, Carol Moldaw, poet laureate Charles Simic, Jean Valentine and Jonah Winter. In Wollman Hall at The New School, 66 West 11th Street, admission is free.
7 p.m. "The Bad Egg Collective" hosted by founder Ella Grapp will meet to "talk about anything and everything that will raise controversy and spark debates" at Stain Bar 766 Grand Street in Brooklyn. Admission is free
8 p.m. The London Symphony Orchestra will perform at Avery Fisher Hall in Lincoln Center, 1941 Broadway and 65th Street.
Tickets range from $35–$69.

8 p.m. "Chess Night" is held at Russian-themed, Sputnik bar in Clinton Hill. "Better-than-average" bar food on hand, at 262 Taaffe Place. Admission is free.
10:10 p.m. Independent film: Rock in a Hard Place: "the heartwarming story of a man made out of crack cocaine and his struggle to find himself in today's society" screens as part of a week-long N.Y. International Independent Video and Film Festival at Village East Cinema 4,189 2nd Street. Admission is $12.00.