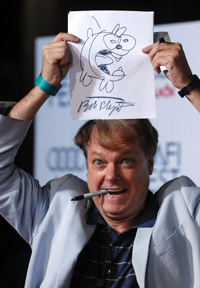 SATURDAY
4 p.m. The Artists & Fleas: Independent Artist Indoor Market is held at 303 Grand Street in Brooklyn.
6 p.m. A dance improvisation workshop called "The Buzz" will take place at the N.Y. Chinese Cultural Center on 390 Broadway. Admission is $10.
8 p.m. "TIMES 365:24:7" is a "multi-media exploration of today's hyper-caffeinated media world" hosted by the Brick Theater, 575 Metropolitan Avenue near Lorimer Street. Ticket prices range from $10 to $18.
8 p.m. "Sex, Animated" features 12 films on the topic of sex, featuring Bill Plympton, the creator of "Courage the Cowardly Dog," John Dilworth, Commercial animator PES and others. The screening will be moderated by Signe Baumane, at 92YTribecca, 200 Hudson Street. Tickets are $12.

8 p.m. "Rare Breed Productions" offers "Flanagan's Wake" a mock-interactive Irish wake. At Mr. Dennehy's, 63 Carmine Street. Admission is $20.
SUNDAY
9 a.m. Flea Market is held at the Bay Ridge Jewish Center, 405 81st Street, at Fourth Avenue.
9 a.m. The N.Y. Aquarium hosts "Breakfast With the Animals" at the Aquarium, 502 Surf Avenue, between West Eighth and West Fifth streets. Human breakfast will also be served, admission is $32, $25 for members.

11 a.m. Eyewitness News Reporter N.J. Burkett will speak at "Covering the War In Gaza" brunch, Congregation Mount Sinai, 250 Cadman Plaza West at Clark Street. Tickets are $18, $15 for members.

12:45 p.m. Park Slope hosts annual St. Patrick's Day Parade, beginning at Prospect Park West at 14th Street.

2:30 p.m. The U.S. Pole Dance Championship is held at the Bleecker Street Theater, 45 Bleecker Street. Ticket prices range from $50 to $70.
3 p.m. Hair the musical holds final performance at Al Hirschfeld Theatre, 302 West 45th Street.
4 p.m. "Yiddish Dance Party" is held at the Bensonhurst Jewish Community Home, 7802 Bay Parkway. Featuring live Klezmer music, admission is free.

8 p.m. A.C. Newman performs at the Bowery Ballroom with Dent May and His Magnificent Ukulele, 6 Delancey Street, admission is $18, $15 in advance.
MONDAY

11:55 p.m. Rockstar Games hosts "Grand Theft Auto: Chinatown Wars" launch party. DJ OhNo will be "spinning throughout the night." At the Nintendo World Store, 10 Rockefeller Plaza.

4 p.m. Lez Zeppelin performs at the Canal Room, 285 West Broadway.

7:30 p.m. Care Bears on Fire perform at the Bell House, 149 Seventh Street and Third Avenue. Tickets are $10.
8 p.m. Cake Shop hosts "Street Meat, a "unique Character Comedy Variety Show." At 152 Ludlow Street; admission is free.

8 p.m. The Beard & Moustache Championship will be held at Public Assembly; bearded people will compete for prizes. The event will feature live music, comedy and burlesque, at 70 North Sixth Street and Wythe Avenue. Tickets are $20, $15 in advance.