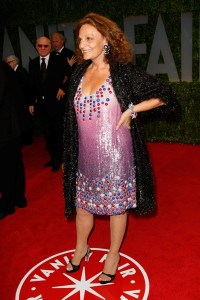 6 p.m. French–Pan-Asian restaurant Satsko celebrates "Satsko's Economic stimulus package Monday" with a happy hour and $5 all-you-can-eat Asian Chicken, at 245 Eldridge Street.

6:30 p.m. "A Literary Showdown" features Jonathan Lethem, Chip Kidd, A. J. Jacobs, Darin Strauss and Susan Jane Gilman, pitting "three teams of five authors, five editors and five agents against one another to see who ultimately knows the most useless facts concerning the literary world." At Dixon Place, 161 Chrystie Street, between Delancey and Rivington streets. Tickets are $25.
7 p.m. The French Institute Alliance Française presents "Fashion Talks with Pamela Golbin," featuring Diane von Furstenberg, in Florence Gould Hall of the French Institute, 55 East 59th Street. General Admission is $50.
7 p.m. Author Jesse Ball will read from his most recent work, The Way Through Doors at BookCourt, 163 Court Street, between Dean and Pacific streets, in Brooklyn. Admission is free.

7 p.m. Brett Stephen Farkas opening reception, "It's All Just Make Believe," will be held at the new Antagonist Gallery (located inside Niagra bar—note wall doodles by Yoshitomo Nara) at 112 Avenue A at East 7th Street. Admission is free.
9:30 p.m. "What it takes Andrew Lloyd Webber years to do: crap out a musical from start to finish" is held at the Upright Citizens Brigade Theatre; I Eat Pandas and As the Diamond Burns perform, 307 West 26th Street, between Eighth and Ninth avenues. Tickets are $5.
10 p.m. Monday Night Burlesque, hosted by Legs Malone, features Dirty Martini, the World Famous BOB and others. At Public Assembly, 70 North Sixth Street, between Kent and Wythe avenues. Tickets are $10.

11:30 p.m. Scott Nevins hosts a "special edition" of his weekly show-tune soiree, "Curtain Call," at Splash Bar, 50 West 17th Street, between Sixth and Seventh avenues. Tickets are $5; free before 10 p.m.