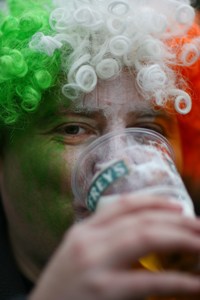 Noon to 8 p.m. The Rink at Rockefeller Center hosts St. Patrick's Day party, complete with a skating leprechaun, Irish cuisine and beer. At Rockefeller Center, 5th Avenue between 49th and 50th streets.
12:30 p.m. Niall O'Leary's Irish Dance Troupe holds an "afternoon of classic and modern step dance" at the World Financial Center's Winter Garden, 220 Vesey Street between North End Avenue and the West Side Highway. Admission is free.

1 p.m. 11th annual Luck of the Irish St. Patrick's Day Pub Crawl continues at The Village Pourhouse, 64 Third Avenue and 11th Street. More than 100 East Village, Murray Hill, and U.E.S. bars are also participating, trying to breake a Guinness (ha.) World Record and offering drink specials.
6 p.m. "How Do I Look? screening and vogueing performance" will be held at the Jewish Community Center (for something different). This event will feature Wolfgang Busch's documentary about Harlem ball culture, along with a rare voguing performance by the House of Ninja and a Q&A with Busch and ballroom icon Kevin Omni. At 334 Amsterdam Ave at 76th Street. Tickets are $10.

6 p.m. The Bridget Murphy's St. Patrick's Day Celebration will take place in the servants' quarters (usually off limits) of the Merchant's House Museum: "arguably the oldest site of Irish habitation in N.Y.C." Reenactors perform stories of Irish heritage, there will be bagpipes and sample cuisine. At 29 East 4th Street between Bowery and Lafayette. Admission is $30, $15 for members.

7 p.m. SideBar hosts "Luck of the Irish Gold Scavenger Hunt" at 118 East 15 Street. Price to play is free.
8 p.m. The New York Festival of Song will be held at The Merkin Concert Hall, 129 West 67th Street, tickets range from $45 to $75.
8 p.m. The Upright Citizens Brigade performs Theatre's O'Harold Night, a St. Patrick's Day improve where the first group of comics will appear sober, and each one that follows will be drunker than the last. At U.C.B. Theatre, 307 West 26th Street between Eighth and Ninth Avenue. Admission is $5.