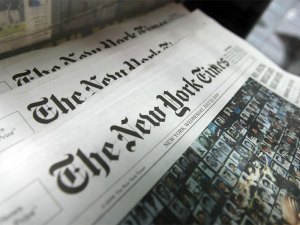 The New York Times plans to eliminate several weekly sections, including its stand-alone City Section, newsroom sources have told The Observer. There are also discussions to eliminate the regional weeklies in New Jersey, Long Island, Westchester and Connecticut, and the Friday Escapes section as well, a source said. The timeline is unclear for now, but another newsroom staffer told us that City has only four issues left.
The news comes on the heels of The Times' salary cuts.
The newsroom has been buzzing about the imminent demise of the City Section since Thursday afternoon, when Bill Keller gave a newsroom address and said that the paper was looking to cut back on freelancers as much as possible. A staffer asked what that would mean for the City Section, the regionals and Escapes, which use material almost entirely written by freelancers. Mr. Keller said that the masthead editors were reviewing their options, which didn't spell good news to several attendees.
Connie Rosenblum, the City Section editor, referred a phone call to New York Times Company spokeswoman Catherine Mathis. Ms. Mathis, when reached Sunday night, said, "We are going to decline to comment."
Mr. Keller has been working with top editors at the paper in trying to find a way to preserve content from the weekly sections. For instance, they are still drafting a plan that would allow an extra page or two of space within the paper's New York section where they could use material that would have gone in the stand-alone sections in the past. Likewise, Escapes material could be used in the Travel section.
The City section, unlike the paper's local news section, has always tried to feel like a small-town paper nestled in the Sunday Times. Stories about how the South Brooklyn Casket Company inspires poets and artists sat side-by-side with paeans to Riverside Park. The section has also been a comfortable space for essayists like Sloane Crosley and Thomas Beller to muse on various off-news-cycle topics like dance or dropping an iPod on the subway tracks.
The regionals were stylistically the same, but since a decision reached in 2006 to eliminate most of the original content specific to each region in favor of consolidated material used for all the regionals, it has been a shell of what it once was. Last month, the paper started The Local, a blog that is aiming for that small-town feel in parts of brownstone Brooklyn and suburban New Jersey.