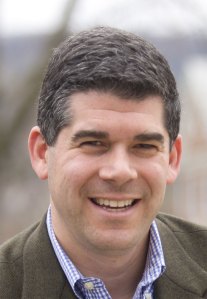 The New York Times' Jacques Steinberg is leaving the TV beat for the paper's national desk, where he'll cover education. He'll be doing digital stuff, and will run a blog called The Choice.
The paper's TV beat is strong enough to sustain the loss—wunderkind Brian Stelter can easily take up his duties along with the paper's longtime TV maven, Bill Carter—and the paper's education beat can really use the help.
Last October, at The Times' state of the newsroom get-together, Throw Stuff at Bill, Mr. Keller admitted, "When we went through that excruciating exercise to figure out how to lose 100 jobs in the newsroom, we decided we could come down a little bit on the education department." It rankled one staffer, who wondered why the education department had been essentially wiped away, but Mr. Keller reminded her that it's still a priority for two desks—national and Metro.
Since he'll be doing a primarily digital gig now, his announcement memo is written by national editor Suzanne Daley and digital editor Jon Landman.
Here it is:
For almost 20 years, Jacques Steinberg has brought his innate curiosity and limitless enthusiasm to a variety of beats — from Westchester County, to education, to newspapers. In his six years covering television, he has had encounters with luminaries like Dan Rather, Don Imus and the entire cast of "The View." He wrote about "Mad Men" before anyone knew how hot it would become.

Now, Jacques is taking on a new challenge. He is joining the National Desk's education team and will be the anchor of a blog about college admissions called The Choice.

As a former education reporter and the author of a book about the admissions process at Wesleyan University called "The Gatekeepers,"

Jacques is uniquely qualified to lead this enterprise. He hopes to create a site that prospective college students and their parents will turn to regularly for information and advice about applying to college and finding the money to pay for it.

He'll be getting a lot of help from others who cover higher education, including Tamar Lewin of the National Desk, Lisa Foderaro of the Metro Desk, and Jane Karr, editor of Education Life.

The Choice officially launches on Monday (March 30), to capture the moment when high school seniors are receiving their acceptance letters and struggling to decide which school to go to.

And Jacques is asking for your help. If you're at any stage of this process — starting a college savings fund; mapping out a summer college tour for your high school junior; dealing with the prospect of your triplets leaving the nest — please let him know at [redacted]. We're hoping some staff members could be coaxed into telling parts of their stories to a wider audience.

Suzanne Daley and Jonathan Landman