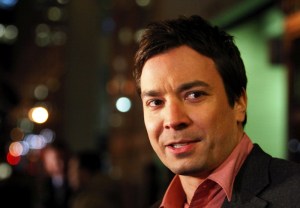 We've never quite understood the vitriol that comes with the name Jimmy Fallon. Maybe the problem stems from the fact that he's really a tweener; like a lyric from a lost Britney Spears song, he's not an actor, not yet a comedian. In fact, if he's guilty of one thing, it's that he just seems so incredibly happy to be famous. Watching him interview Robert De Niro on the premiere of Late Night with Jimmy Fallon last night, it was as if "The Chris Farley Show" had been brought out of the cobwebs. Mr. Fallon treated the Oscar-winner with a mix of reverence and awe as he stumbled his way through a bunch of pat questions and lame jokes. That the interview was a total train wreck wasn't solely his fault—Mr. De Niro, dressed like a grandfather, seemed like he was sucking on a lemon the entire time—but it did illustrate Mr. Fallon's limitations: the guy just acts like any regular person would when faced with interviewing someone famous like Robert De Niro, up to and including doing a bad "Robert De Niro" impression to his face. Suffice it to say, professionalism is not one of Mr. Fallon's strongest character traits. And as if to prove this point, when Justin Timberlake strolled out, Mr. Fallon immediately relaxed. Since they are friends, the interview felt more like two guys hanging out in an apartment, goofing around with each other. The lesson? Jimmy Fallon is like all us, only his friends happen to be famous. Come on haters! Who can't get behind that?
Since you smartly went to bed and didn't see Mr. Fallon's first show as host of Late Night, here are some of the other things you missed. (Hint: it wasn't bad!)
Funny Ha Ha
A cold open featuring Conan O'Brien packing up his Late Night dressing room while Mr. Fallon got ready for his first show was as hilarious as you would expect. As for the monologue… well, we smirked? Truth be told, it felt like an edition of Weekend Update: The jokes were topical (Rush Limbaugh! The economy!), but the results were only kinda funny. A snap suggestion would be to have Mr. Fallon sit behind a desk to do his opening, thus making him more comfortable, but since that would literally be reinventing the late night wheel, it's probably better take baby steps.
PG-13 Howard Stern
While he might not be as good an interviewer as Howard Stern, Mr. Fallon clearly learned a few things from the former King of All Media about being a ringleader. One of the highlights of the premiere was a game called "Lick it for Ten", where contestants from the audience had to—you guessed it—lick something to win $10 dollars. As dirty as the conceit sounds, the items were harmless—a lawnmower, a printer/scanner and a bowl of gold fish. What stood out to us, however, was that Mr. Fallon handled the entire thing with the aplomb of a seasoned pro. Doing a bit on your first show that relies solely on audience participation is a risky maneuver, but Mr. Fallon was able to get a lot out of his three young contestants, and that bodes well for the future. It's already apparent that Late Night with Jimmy Fallon has a more communal-vibe than any of the other late night options.
Moondance or Humpty Dance?
How did Van Morrison—looking like a cross between Danny DeVito and Humpty Hump from Digital Underground—end up as the first musical guest on Mr. Fallon's show? Talk about missing your target demographic! We're guessing Santigold will fit in better with the mostly college-aged studio audience when she performs tonight. Seriously. If there was anyone in the audience over the age of 22, we'd be shocked. Ladies and gentleman, the future of late night television…