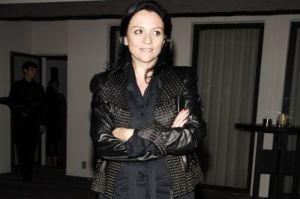 Fashion publicist Kelly Cutrone is writing a book. The as-yet-untitled volume, which will be published in January 2010 by HarperCollins' West Coast– based spirituality-and- inspiration-focused imprint HarperOne, will be aimed at young women who have their sights set on power and success but lack the know-how to attain them.
"It's kind of a pop culture fourth wave of feminism book," Ms. Cutrone said by phone today. "It's everything your mother never told you because she didn't know."
Thanks to her successful PR company, People's Revolution, Ms. Cutrone has long been well known in New York media and fashion circles as a severe and serious-minded businesswoman. She rose to national prominence last year when she became a regular on MTV's kinda/sorta reality show, The Hills, and more recently, its New York–based spin-off, The City.
It was through those shows that Ms. Cutrone's editor at HarperOne, Jan Baumer, first became aware of her. In an email, Ms. Baumer said she first reached out to Ms. Cutrone two months ago, and knew right away she was "the perfect person to write a book for both a new generation of aspiring professionals and those simply wishing to reinvent themselves."
Ms. Cutrone said the book will tell her life story—she is a single mom who made her way in New York after moving here from a small town outside Syracuse—but will emphasize practical lessons on how to get what one wants both at work and at home. "It's not like a how-to book so much as a kind of power girl's guide," she said. Topics covered, she offered by way of example, will include how to get your first apartment, why it's important to leave a place if you feel like you're going to cry, how to buy lingerie and how to tell the difference between a slant six and a V8 if you're in the market for a muscle car.
The book will also instruct readers to set fire to and forget a number of other advice books they might have read in the past, including What to Expect When You're Expecting, The Rules: Time-Tested Secrets for Capturing the Heart of Mr. Right, Find a Husband After 35: (Using What I Learned at Harvard Business School), as well as "any book by Dr. Phil and any book by Martha Stewart."
"It's a real girl's guide to the real fucking world," Ms. Cutrone said. "Sex and the City was a lot of frosting. I like Candace, and I think she's a good writer, but this isn't four girls holding hands running around New York. It's the real thing."
Ms. Cutrone said she has plenty of experience as a mentor to young women.
"I raise 20 young women a year in my business," she said. "A lot of them come to us when they're 18, 19 and in college and a lot of them end up coming back to us and we watch them grow up."
Incidentally! Ms. Cutrone's co-writer on the book is none other than The Observer's own Meredith Bryan. The two met last summer when Ms. Bryan wrote "Dark Angel of The Hills," a profile of Ms. Cutrone that described her as "a kind of antidote to the series' dreamy plasticity, portraying fashion as an actual job where one works, rather than an excuse to rustle through racks of clothes while discussing your roommate issues."