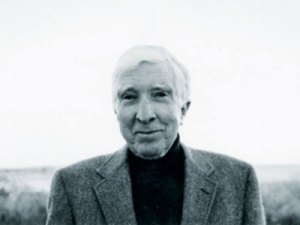 Hundreds gathered last night under the shimmering saucer dome of the New York Public Library's Celeste Bartos Forum to remember John Updike. The lights went down at 7 p.m., and a moment later the screen onstage flickered awake to show the late author seated three years ago in the very same room, cheerfully discussing his writing with former New Yorker writer Jeffrey Goldberg.
"I don't really do much else but write," Updike said, having established that he'd just published something like his 60th book.
When the video ended, a photograph in which Updike's features make him appear even friendlier than usual appeared in its place and remained there for the rest of the evening. It was hard to look at anything else, even as the procession of giants on the bill appeared onstage to read from Updike's work and tell tender stories.
Knopf chairman Sonny Mehta declared with gratitude at the opening of the program that Updike was "an author with the heart of a publisher," who "cared about the process and the mechanics of making a book" right down to the fonts, the trim size and the paper stock.
He was a professional writer, Mr. Mehta said: "It was his trade, and he was a master of that trade."
New Yorker editor David Remnick spoke humbly about what Updike meant to the magazine that published him all his life ("We did little for him—so little needed doing—but he did everything for us") and warned readers that the poetry he put down on paper in the last weeks of his life contained some of the most "determined, stubborn, beautiful death-bed lines we possess."
Speaking last (immediately following ZZ Packer's reading of a particularly dark excerpt from Rabbit, Run), Updike's son David told the audience that his father at the time of his death was reading Barack Obama's Dreams From My Father, in an effort, he said, to "catch up on history he was about to miss."
A montage of photographs followed, ending with a thrilling color shot of Updike standing tall on a patch of bright green grass, a blue sweater peeking out from his collar and his right arm extended theatrically and joyously into the air.