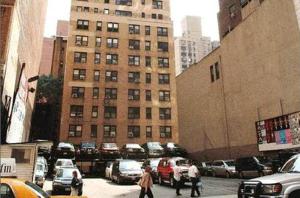 The Republic of Korea has paid $15.8 million for a vacant piece of land at 122 East 32nd Street, which sits, appropriately enough, just east of New York's diminutive yet bustling Koreatown, alive late into the night with karaoke bars and some of the best kim chi and barbecue in town.
City records indicate that the Consulate General of the Republic of Korea signed the deed for the 6,370-square-foot lot on March 3. The government will use the site to build a brand new Korean Cultural Center, which is now housed at 460 Park Avenue, according to Heesung Cho, who works at the center.
The site has 43,152 buildable square feet, according to commercial real estate database CoStar, which means the Korean government paid a premium $366 a square foot.
"Generally, today, development sites have a value that's predicated on building residential rental housing, and the price that most developers are willing to pay in Manhattan is about $150 to $200 a square foot," said Robert Knakal, chairman of Massey Knakal Realty, which specializes, among other things, in the sale of development sites. Mr. Knakal said the exception to that rule is when the buyer is a long-term user, like, in this case, the Korean Cultural Center, which has no apparent near-term plans of turning a profit on the purchase.
Eastern Consolidated's Eric Anton, Ronald Solarz, Daniel Glaser, Samuel Schneider and David Kalish represented the seller, 126 East 32nd Street LLC, in this transaction.
The government of Korea was represented by Colliers ABR's Craig Evans and Newstar Realty's Young Park.
This is the second foreign government to buy Manhattan real estate market in recent weeks.
On March 6, the Republic of Chad paid $7.3 million for a lovely townhouse on East 36th Street, which the government will use for its Mission to the United Nations.