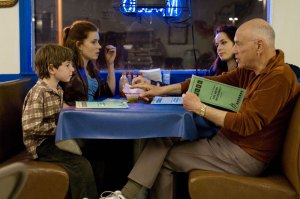 Sunshine Cleaning
Running time 102 minutes
Written by Megan Holley
Directed by Christine Jeffs
Starring Amy Adams, Emily Blunt, Alan Arkin
Christine Jeffs' Sunshine Cleaning, from a screenplay by Megan Holley, focuses on the relationship of two somewhat underprivileged sisters in Albuquerque, N.M., who hit upon a joint career in the bizarre and outlandish, but surprisingly lucrative, business of cleaning up violent crime scenes after the police have dragged away the bodies of the victims. Amy Adams plays the older sister, Rose Lorkowski, and Emily Blunt the younger sister, Norah. For once, the two sisters really look like sisters, instead of studies in casting contrasts like tall-short, blond-brunet, svelte–not-so-svelte. The Lorkowski family is nominally headed by the impecunious speculator paterfamilias Joe Lorkowski, played by Alan Arkin with the same irrepressible zest he displayed in his Oscar-winning portrayal of Abigail Breslin's little-girl-stripper's grandpa in Jonathan Dayton and Valerie Faris' Little Miss Sunshine (2006). Rounding out the Lorkowski family is Rose's illegitimate 10-year-old son, Oscar (Jason Spevack).
Norah still lives with her father in the family house while Rose shares a nearby apartment with Oscar. Since she is usually unemployed, Norah is often available to look after Oscar while Rose pursues an affair in motels with a married man, Steve Zahn's Mac, who dated Rose in high school when she was a cheerleader. It is typical of Rose's luck in these matters that he married someone else.
The stage is thus set for a stereotyped farce comedy highlighting a dysfunctional family of losers. But very gradually, a series of unexpectedly poignant scenes amid a generous spirit of reconciliation infuse the film with a warm glow in this season of economic and cinematic discontent.
The idea for the film originated with its eventual screenwriter, Ms. Holley, who heard a news item on the radio about a recent rapid growth industry: the crime-scene clean-up business, which, incidentally, was remarkably lucrative.
Rose, hitherto a lowly paid waitress, finagles her way into the profession by sporting a white van with her company logo, Sunshine Cleaners, emblazoned on the side of the truck. She then bullies her reluctant younger sister to join her in this grisly adventure.
Rose is driven to extremes by her need to afford a better school for her troublesome son, who has just been expelled from his present school for licking his teacher's bare legs. Rose and Norah get some useful professional advice from a helpful one-armed cleaning-store proprietor named Winston (Clifton Collins Jr.). Winston's missing arm is a source of endless fascination for Oscar, and we expect something romantic to transpire between Rose and Winston, but mercifully it doesn't. Similarly, an incipient lesbian attraction is shown between Norah and a woman named Lynn (Mary Lynn Rajskub), whom Norah meets under strange circumstances. But that relationship, also mercifully, goes nowhere. The central drama thereby remains focused on the two sisters, and their climactic coming to terms with their mother's long-ago suicide, which left them both somewhat rudderless amid the swirling currents of their lives.
Ms. Jeffs, whose first feature film, Rain (2001), was based in New Zealand, made her mark with the British-made Sylvia (2003), the story of the ill-fated Sylvia Plath, played by Gwyneth Paltrow. Like Sylvia, Sunshine Cleaning (which was nominated for the Sundance Grand Jury Prize in 2008) is made of sterner stuff than the usual chick flick, and is well worth the time of all serious moviegoers.
asarris@observer.com