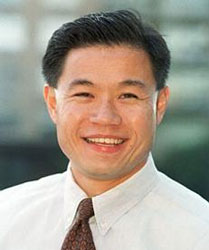 The crowd was large. The signs – blue and green with three stars – were waved. And the message from the candidate, John Liu, was clear.
"This is an amazing day, and something I've prepared for for a long time," he said at his campaign kick-off yesterday on the steps of City Hall. "This is a day that has occurred in a natural sequence. And it is a job that I truly want."
Liu's entrance to the race Sunday comes months after his opponents have already been campaigning for the job, and after he had declared an interest in seeking the public advocate job. The current field of comptroller candidates includes council members Melinda Katz, who has been campaigning for the job and announcing union endorsements since 2007, David Yassky, whose campaign has already gone through its first staff overhaul and David Weprin, who has been positioning himself for this race since becoming chair the Council's Finance Committee in 2002. (Katz and Weprin, like Liu, are from Queens.)
But at the rally Sunday, Liu said that his work at PricewaterhouseCoopers, and later in the City Council, had all been leading up to this moment.
"I know that I can do it because of my background. I know numbers, but we also have to know and realize that it's not just about numbers. It's about the bigger picture, the broader package that we in government have to deliver," he said.
Also on display was the fact that unlike his opponents, Liu is an immigrant–from Taiwan–and has the support of a number of minority elected officials, including Assemblyman Darryl Towns and Representative Nydia Velazquez.
Indicators that Liu's entrance to the race may not have been that long in the making: his campaign web site is under construction, and has not previously made reference to the comptroller office. And (OK, this is very circumstantial evidence) the signs at Sunday's rally were hand-made.
Afterward, Towns told me that Liu isn't in fact late to the contest, saying that most people are only figuring out now what exactly they're doing in municipal races. Towns said part of the timing had to do with the plans of Adolfo Carrion, the Bronx borough president who had been running for comptroller before getting a job in the Obama administration.
Towns also downplayed the notion that Liu would be hurt by being the third City Council member from Queens running for comptroller this year.
"In New York City politics, geography is just one of the factors," he said.