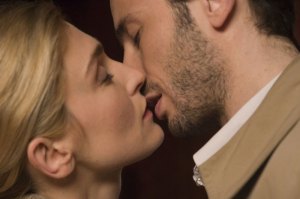 Shall We Kiss?
Running time 96 minutes
Written and DIRECTED BY Emmanuel Mouret
Starring Julie Gayet, Michaël Cohen, Virginie Ledoyen, Emmanuel Mouret
Emmanuel Mouret's Shall We Kiss? (Un Baiser S'il Vous Plaît), from his own screenplay, revolves around two couples and two more or less innocent bystanders as it ponders the profundities of a kiss in endlessly explicatory dialogue. If Eric Rohmer comes immediately to mind, Mr. Mouret freely acknowledges the debt he owes to Rohmerian cinema. Still, Mr. Mouret indulges more in slapstick than Mr. Rohmer ever did.
The film begins with a flirtation between Émilie (Julie Gayet), on a business trip in Nantes, and Gabriel, (Michaël Cohen), a stranger she meets at a reception. After a pleasant evening of drinking and talking, Gabriel drives Émilie to her hotel. But when he asks her for a simple good-night kiss, she refuses. In a story she begins in the car and finishes in her hotel room, she explains why.
The story involves Judith (Virginie Ledoyen), a research scientist who is happily married to a pharmacist, Claudio (Stefano Accorsi); and her best friend, Nicolas (Mr. Mouret), who approaches her one day to tell her of the embarrassing problem that is distracting him from the classes he teaches as a mathematics professor: He feels an acute need for some physical affection from a woman, beginning with a kiss. When Judith suggests he try a prostitute, he tells her that he did just that, but the lady of the evening simply refused to kiss him even after he had fulfilled her request that he take a shower before coming to bed.
When Judith takes pity on Nicolas by agreeing to kiss him, she has no intention of leaving her husband. What happens next confounds both Nicolas and Judith, and leads to further complications for the two friends transformed into lovers by a single kiss. A final surprise is provided by Émilie after she finishes her story.
The 38-year-old writer-director has made three previous romantic comedies in the same vein as Shall We Kiss?, but I have not been able to catch any of them. The time may not be far off when an Emmanuel Mouret retrospective may be in order. In the meantime, the French cinema continues to be the source of our most timelessly enchanting romantic entertainment.
Ms. Ledoyen, Ms. Gayet, Frédérique Bel, Mr. Mouret, Mr. Cohen and Mr. Accorsi have accumulated so much experience in the cinematic game of love, through the amazing productivity of the subsidized French film industry, that the rapport they achieve with each other becomes magical.
asarris@observer.com