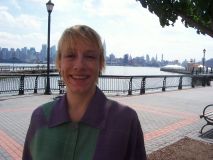 HOBOKEN – Councilwoman Beth Mason plans a formal, crack of dawnlaunch of her mayoral campaign Friday, which will include arollout of her at-large council candidates: Anthony Pasquale, Raul MoralesII and Vincent Addeo.
Following the 7 a.m.announcement at her campaign office on Washington Street, Mason and her supporters plan to go to City Hall where the candidate will file her petitions.
Mason is running against Councilman Peter Cammarano and Councilwoman Dawn Zimmer to succeed Mayor David Roberts.