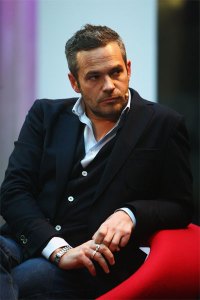 Tyler Brûlé was in New York on Wednesday morning, enjoying a cappuccino in the mausoleumlike lobby of the Four Seasons and talking about Monocle, his global business and culture magazine. He was in town for, as he put it, "a little commercial trip"—and it seemed a tightly scheduled one. Two dining companions had just departed and a car was waiting on 58th Street to take him a recording session for The Monocle Weekly, his magazine's podcast—after which he'd board a plane back to headquarters in London.
Nearly 18 months ago, the Canadian-born Mr. Brûlé, 40, was in the exact same spot, laying out his vision for "organically" growing the Monocle brand to The Observer.
Since that time, the company has opened a Hammacher Schlemmer–esque lifestyle store in London (with another one on the way in Los Angeles), and more than a few more bureaus. And yet looking at the April issue, with its "global retail survey," a casual reader might wonder what planet this thing comes from. When even Condé Nast—the canary in the velvet coal mine—is cutting budgets for its most established titles, how does Monocle continue to support correspondents in Beirut, Bogotá, Nairobi and Moscow?
Mr. Brûlé said that the previous issue—also the magazine's second anniversary edition—was its most successful to date, and who can doubt it with ads from Cartier, Louis Vuitton and Prada in just the first six pages. But one does wonder if the global economic crash will throw cold water on the international beach party Monocle embodies.
The magazine's jet-setting worldview (forget the Next Brooklyn, where's the Next Shanghai?) seems even odder now than at the tail-end of the boom when it merely felt like a series of dispatches from a strange—but excellently designed—alternate universe populated by strikingly beautiful people. (Who knew Slovenian medical students were so attractive?)
According to Mr. Brûlé, who owns 70 percent of the company, Monocle's 10,000 subscribers "get it." (Another 150,000 copies are shipped to newsstands—though not at the Four Seasons, leading Mr. Brûlé to gripe, "I don't even know why I stay here"; one of his alternate-career fantasies is opening a hotel in New York.) He said his readers are "people in public policy and diplomacy, a lot of people in transport," as well as ambassadors and workers at non-governmental organizations. Recently, someone from the U.S. State Department called to ask for two free copies of the magazine. Mr. Brûlé said the answer was: "No. Subscribe like everybody else."
It's hard to imagine many people who can relate to the editorial Mr. Brûlé wrote in the March 2009 issue that began, "London-Milan, Milan-London, London-Milan, Milan-Barcelona, Milan-New York, Stockholm-Milan… We might have our base in London but all roads end up leading back to Milan…"
Yes, quite.
Mr. Brûlé estimates that he spends 250 days a year traveling. Maybe that's why so much of Monocle feels like the sort of conversation one might have with a business consultant or high-level bureaucrat in an airport lounge: It's like a climate-controlled pod, sealed off from the current economic climate's roiling seas.
"There is a sense of optimism," Mr. Brûlé argued. "And it's interesting how so many readers—and this has certainly been of late, this has been in the last six months—have gone, 'I really enjoy the magazine because you're not naïve about what's happening in the world, of course you nod to it, it's always put into context, but you actually close the [magazine] and you feel pretty good about the world.'"
An example of such "nodding": In the September 2008 issue, the magazine smuggled a writer and photographer into Turkmenistan—a country entirely closed to journalists—and noted in some display copy that life under Turkmenistan's late president, Saparmurat Niyazov (a.k.a. "Turkmenbashi"), was "an eccentric personality cult." (Human Rights Watch was a little less equivocal, calling Turkmenistan under "president for life" Turkmenbashi "one of the world's worst tyrannies.")
Asked about the Turkmenistan piece, Mr. Brûlé said, "I didn't think we had to overdramatize it."
A similarly tossed-off aside in the same issue opened a 10 page photo spread of men's swim trunks shot in Beirut: "Despite the rather unsettled summer in Lebanon it was business as usual at the iconic 1960s Sporting Club—or simply 'Sporting' if you're a Gemayzeh resident." (See: Deadly gun battles shake Beirut, BBC, May 9, 2008.)
Mr. Brûlé doesn't concern himself much with the worldwide economic downturn, calling talk of collapsing markets "a conversation opener only in the United States, almost to the point that it's boring."
While the magazine feints at the topic, its podcast tends to handle it more directly. A recent installment found Mr. Brûlé wondering ominously if Dubai—precisely the sort of booming, architecturally daring, globalized megalopolis Monocle celebrates—would crumble into the desert now that its economy has stalled and thousands of its fun-loving, high-spending expats have fled for fear of winding up in debtors prison.
But even there, Mr. Brûlé seemed to be envisioning a potential Ralph Lauren-styled spread. "There is such a good story to be done there," he says, imagining a photo essay or an article about "young princes … who have to get out and work."
Related: Monocle v. Monocle.