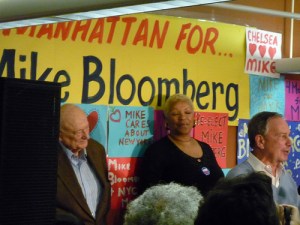 Barack Obama's education czar wants Michael Bloomberg to retain control over city schools.
Tom Suozzi signaled he'd run for governor again if David Paterson doesn't seek re-election, according to Dan Janison.
The state budget is growing by nine percent.
The Times investigate how high-income earners feel about the increase in their taxes.
Landlords are giving a lot of money to state lawmakers.
Lobbying is a thriving business in Albany.
Al D'Amato is being paid $50,000 to lobby for the the World Trade Center Memorial Foundation.
The Staten Island Republican county chairman was at the opening of Bloomberg's campaign office.
The Daily News focuses on Bloomberg's kind words for former congressman Vito Fossella.
Fossella gave raises to staffers who stayed with him until he retired.
Keith Eddings has a story about the misdeeds of three major political committees in White Plains.
Eric Gioia said sex offenders shouldn't live in public housing, but he did not offer alternative locations.
Errol Louis says the number of immigrant voters are growing.
Reid Epstein explains the feud between Steve Levy and William Lindsay.
Newsday questions why Levy sent 3,000 letters warning of union layoffs when he doesn't have the authority to do so.
Joel Klein used city time and resources to fund-raise for an education group he helped create.
A Westchester County legislator criticized the $1 million Westchester county government is giving to schools in Ardsley.
Town officials in Carmel spent thousands of dollars on cell-phone calls, but won't say exactly who they were calling.
Macy's Thanksgiving Day parade route may have to change because of Bloomberg's plan for Broadway.
And here's a shot of Bloomberg at the opening of his campaign office on Staten Island yesterday, with Vito Fossella standing behind him.