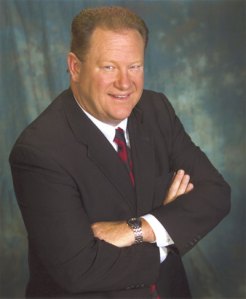 The Observer has learned that MSNBC president Phil Griffin is in discussions with syndicated talk radio host Ed Schultz about possibly joining the network on a full-time basis. It is unclear what exactly the job would entail should Mr. Schultz and MSNBC come to an agreement.
On March 10, Mr. Schultz, who bills himself as the "most listened-to progressive radio talk show host in America," guest-hosted on MSNBC's 1600 Pennsylvania Avenue. As The Observer reported at the time, the appearance touched off a wave of rumors among MSNBC staffers that Mr. Schultz was being groomed to join the network as an anchor.
Eight days later, on Wednesday, March 18, Mr. Schultz was back in the anchor chair, again, filling in for David Shuster on the 6 p.m. show.
One network source told The Observer that an offer has already been extended to Mr. Schultz. A network spokesperson denied that any offer has been made.
When reached by phone on Friday morning, Mr. Schultz also denied that Mr. Griffin had made him an offer. He said that he had received some kind words from MSNBC management on the heels of his guest-hosting gigs. But, according to Mr. Schultz, MSNBC brass has given him no definite word yet about his future—if he has one—at the cable news network.
Speculation about Mr. Schultz's future role at MSNBC has focused on two time slots: the 6 p.m. hour (currently anchored by David Shuster) and the 10 p.m. hour (which currently features a repeat of Countdown with Keith Olbermann).
Since January, when The New York Times first reported that MSNBC might be considering a new 10 p.m. show, so many rumors have floated around New York and Washington about potential hosts that the subject has turned into something of a punch line among industry insiders. To wit: Last night during an appearance on Countdown, MSNBC political analyst Lawrence O'Donnell joked that he would like to have an interview he did that morning sent over to Mr. Griffin as an "audition tape" for the 10 p.m. hour.
"Phil's ears just picked up," quipped Mr. Olbermann. "You mentioned him on TV. That would be likelier to get you the job."
For his part, Mr. Schultz has become a familiar face on MSNBC in recent months through a series of guest appearances on a range of programs.
"If you watched last week, you know I'm outraged with my health care bill," Mr. Schultz said, while guest-anchoring 1600 Pennsylvania Avenue on Wednesday. "But I guess I can't do the same story every time I come on this program."
We'll wait and see.