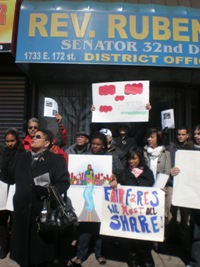 ALBANY—The M.T.A. board just wrapped up a special board meeting in midtown Manhattan to emphasize that the March 25 deadline they set for a bailout from Albany to avoid implementing the "doomsday" budget is absolutely real. 
Transit advocates—including the Empire State Transportation Alliance, which has also been lobbying in Albany—testified about the need to act as quickly as possible as people holding signs urged action in the State Senate.
Yesterday, Senate Democratic Leader Malcolm Smith accused the M.T.A. of "holding the public hostage" by pushing a deadline he has called "questionable."
"As guardians of the transit system that is the lifeblood of the region's economy, we cannot and will not allow it to wither on critical maintenance and repairs," said M.T.A. Chairman Dale Hemmerdinger during the meeting, which was available via webcast. "There have been questions raised about the urgency of our fiscal problems, and whether March 25 is a firm deadline. Believe me when I say, the bottom line is that if we don't act on March 25, we will not be able to implement the fare and toll increases and service cuts in time to meet the revenue targets required by law to balance the budget. I continue to hope, along I'm sure with all of you, that Albany will act in time. But there are no assurances, and putting off our obligations would be irresponsible."
Advocates are taking the fight to the districts of some of the holdout senators. This photo, sent along by a coalition pushing for better transit in communities of color, shows dozens who demonstrated outside the Bronx office of State Senator Ruben Diaz yesterday.
"We wanted him to know that when he really thinks about his constituents needs, he will change his mind," said Elena Conte, an organizer for COMMUTE, which led the demonstration.
Austin Shafran, a spokesman for Smith, said in a brief phone interview, "Our members appreciate the severity of the M.T.A.'s budget shortfall and our conference continues to work to address that while protecting taxpayers and straphangers."