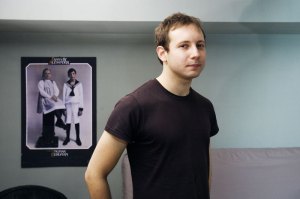 Brooklyn writer Benjamin Nugent is working on a single-camera workplace sitcom pilot for NBC based on his recent book for Scribner, American Nerd: The Story of My People. Mr. Nugent said in an interview last week that the show, if the network picks it up, will center around a group of three friends who build a social networking site just for nerds and sell it to a bigger tech company. The three main characters, he said, are "shlubby, overeducated, and constantly trying to impress each other," and at the center of the plot is "a nerd relationship" between "a nerd boy and a nerd girl."
"I was thinking about what happens when a bunch of nerds get together on a project and suddenly it becomes hot shit," Mr. Nugent said. "Suddenly people start treating them very differently."
NBC approached Mr. Nugent about writing the pilot in the fall, he said, and will decide in May, after up-fronts, whether to film the script he has given them.
He said execs may have been made aware of American Nerd thanks to his ex-girlfriend Mindy Kaling, who plays Kelly Kapoor on The Office and who talked it up to at least one of them before they took the option.
Mr. Nugent said that aside from the title and "some of the themes," the show would have little to do with his book, which wove together his own memories of life as a nerd with a historical analysis of the species.
He has never written for television before. "For me, what was so challenging and liberating about it is that good prose counts for shit," he said. "You don't have poetry to fall back on—all you have are your jokes, so it kind of forces you to think in a different way and exercise different literary muscles."
The experience has had an impact on his other projects, Mr. Nugent said, which include a memoir he's writing for Scribner titled The Shapeshifters, about growing up around a lot of stepfamilies, and a collection of short stories for which he received the prestigious Iowa Arts Fellowship.
lneyfakh@observer.com