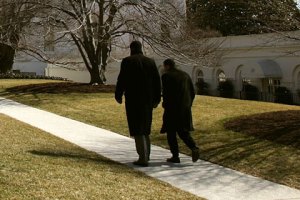 ALBANY—Yikes.
A new poll just released by Marist finds that David Paterson's approval rating has plunged to 26 percent, and, according to the survey, he would lose a hypothetical general election against Rudy Giuliani in 2010.
The most consistent trend in Paterson's popularity has been downward. As recently as January, Paterson's approval was holding around 53 percent.
Last week, a Siena poll found Paterson's approval rating at 40 percent.
By contrast, the poll of 1,045 registered voters found that approval of Attorney General Andrew Cuomo's job performance has soared to 71 percent. Cuomo is often mentioned as a potential primary challenger for Paterson.