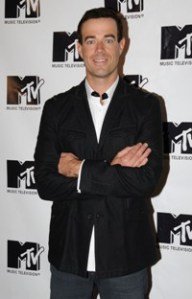 3 p.m. Talk show host Carson Daily and Guinness Master Brewer Fergal Murray rally in support of Proposition 3-17, to make St. Patrick's Day an offical holiday. At the Perfect Pint II, 203 East 45th Street.

5 p.m. The U.S.A. Network and Vanity Fair launch gallery opening of "American Character: A Photographic Journey Event." The Stephan Weiss Studio, 711 Greenwich Street.

5:30 p.m. March of Dimes will hold it's 34th annual Beauty Ball, hosted by Ugly Betty stars Venessa Williams and Michael Urie. At Cipriani, 110 East 42nd Street.

6 p.m. Winners of National Book Critics Circle awards will be announced in Tishman Auditorium at the New School, 66 West 12th Street. A reception following ceremony will be held in the Lang Center at 55 West 13th Street, on the second floor.
6:30 p.m. N.Y.U.'s Center for Global Affairs' "conversations with global leaders" series will feature Ambassador of Iraq to the U.S. Samir Sumaidaie. At the Center for Global Affairs, Woolworth Building, 15 Barclay Street, on the fourth floor.
7 p.m. Poets House holds a tribute to Reginald Shepherd at Lillian Vernon Creative Writers House, N.Y.U., 58 West 10th Street.
8 p.m. F.D.N.Y.'s "Bravest Boxing team" battles the Dublin Fire Brigade at the Transatlantic Championship. B. B. Kings Blues Club and Grill, 237 West 42nd Street.
8 p.m. The Bacon Brothers will perform at Hard Rock Cafe, 1501 Broadway.
8 p.m. Marty Allen, frontman for multimedia band Uncle Monsterface, hosts a gallery opening of his Sock Puppet Portraits at Sputnik, 262 Taaffe Place, in Brooklyn. Admission is free.
8 p.m. Glasslands Gallery hosts "Bearded Heart Electric Cabaret" featuring performances by: Novice Theory, Max Steele, Glenn Marla, Tanya O'Debra and Prince Rama at 289 Kent Avenue, between South 1st and 2nd Streets, in Brooklyn. Ticket price: $10. Includes a free dinner prepared by chef Christine Buckley.

7 p.m. Authors Deb Olin Unferth, Paul Harding and Jedediah Berry join to read from Mr. Harding's recent work: Unferth's Vacation is like no otherholiday you've ever taken at the Behind the Book Reading Series, KGB Bar, 85 East Fourth Street. Admission is free.

7 p.m. Galapagos Art Space hosts Nerd Nite Speed Dating, an L.G.B.T. singles event that "welcomes boys and girls of the nerdy persuasion to do some quick bonding in the hopes of scoring a date." Speed dating will be followed by "Nerd Nite: a monthly geekfest that tonight features lectures on topics including the genetic engineering of humans." At 16 Main Street at Waterstreet, in Brooklyn. Price is $25.
8 p.m. Bagpipist Matthew Welch will play "Bagpipe Music Old and New" in the Issue Project Room at the Old American Can Factory, 232 Third Street, in Brooklyn. Tickets are $10

11 p.m. NASA holds The Spirit of Apollo album debut party at Le Poisson Rouge, 158 Bleeker Street. Admission is $12.