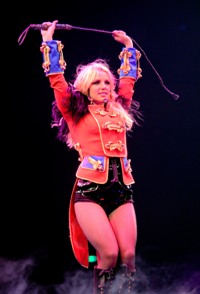 7:30 p.m. "Singles Night Of Bull Riding & Beers" is hosted by Meet Market Adventures at Johnny Utah's: "home to the only mechanical bull in N.Y.C." At 25 West 51st Street. Dress code is "urban casual…and munchies will be provided." Admission price is $19.99.

7:30 p.m. American Organist Gail Archer Concert series kicks off at the Central Synagogue on 123 East 55th Street, admission is free.

7:30 p.m. Pete's Candy Store holds a "Quizz Off" (six rounds of twenty questions) at 709 Lorimer Street, free admission.
8 p.m. "The Music of R.E.M. Music Education Programs for Underprivileged Youth Benefit Concert" will feature the stylings of Patti Smith, Kimya Dawson, Tommy James and the Shondells, Rachel Yamagata and many, many more. At Carnegie Hall, 154 West 57th Streets. Tickets range from $38-$125.
8 p.m. Spike Hill Tavern hosts an Open Mic night at 184 Bedford Avenue at North Seventh Street. Registration starts at 7 pm, admission is free.

8 p.m. Britney Spears performs songs from her new album Circus with special guests: The Pussycat Dolls, at Nassau Coliseum, 1255 Hempstead Turnpike, Uniondale. Ticket prices are: $36,$66 and $150.
8 p.m. "Comedy 2.0: Video Series on the Web" is a discussion and clip show featuring Web-series creators from Burg, Barely Political, College Humor, BestWeekEver.Tv and Cat News. At 92YTribeca, 200 Hudson Street, between Watts and Desbrosses Streets. Admission is $10.