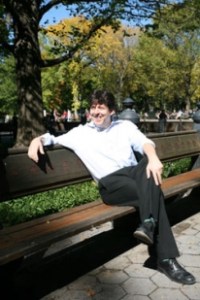 On March 2nd, NYC Seed, the city's first funding venture that will help develop Web- and tech-based start-ups in the early stages, announced investments in two New York-based companies: Path 101, a "community-powered career discovery" site, and PlaceVine, a Web-based product placement site that connects marketers and content producers. Both companies will receive $200,000 each from the investment fund.
As The Observer reported in October, Mayor Michael Bloomberg announced NYC Seed's launch at the start of the city's Internet Week in June 2008. The fund, managed by veteran entrepreneur Owen Davis, is a partnership between the New York City Economic Development Corporation; the New York City Investment Fund; the economic development arm of the Partnership for New York City; Polytechnic University; the New York State Foundation for Science, Technology and Innovation; and the Industrial and Technology Assistance Corporation. The participating organizations pooled $2 million for the program and invest up to $200,000 in New York-based companies developing new Web-based businesses and technologies.
Both Path 101 and PlaceVine aren't traditional "seed" companies—as in "two or three guys with an idea and a business prototype," as PathVine co-founder Greg Neichin told The Observer. Both companies have been established for more than a year, received previous funding and were deep in the development stages before NYC Seed stepped in.
Charlie O'Donnell, Path 101's co-founder and chief executive, told The Observer that the economic climate made venture capital companies and angel investors hesitant to fund new companies. Instead, they concentrated on making their current portfolio companies stronger. So NYC Seed was formed at just the right time for the mid-level city start-ups who needed that last bit of funding to get over a development hump.
Mr. O'Donnell said NYC Seed's $200,000 will supplement a $350,000 investment round raised in February last year and help the company's officially launch their service out of the "alpha" stage before March 13.
"We are looking at everything and all stages," Mr. Davis, NYC Seed's managing director, wrote in an email. "I do like to see a working version of code before we do anything so that the investment can be used efficiently."
"To me, what it says about NYC Seed is entrepreneurs can do a lot more these days with a lot less, especially with Web services and the software world," Mr. Neichin of PlaceVine explained. His company "managed to bootstrap ourselves into hundreds of users and a lot of great momentum," he said. "A 200K investment can take a very efficient company a long way."
Mr. Neichin started PlaceVine in 2007, during an MBA program at Wharton School with his co-founder Adam Erlebacher, a New York-based entrepreneur who was previously director of business development at Colloquis, Inc., an instant messaging bot building service that was acquired by Microsoft in 2006. They received funding through a school program and were working on building the company even before they graduated in May 2008. PlaceVine, which launched out of beta form in October, works as a kind of social networking "dating service" for marketers looking to connect with content producers to integrate brand products. About 300 film, TV, and Web content producers including Fox, A&E, Funny Or Die, and For Your Imagination use PlaceVine by listing brand-integration opportunities on the site. If they are producing a show in which the main characters will be talking on a certain kind of cellphone or driving a specific car, one of the 200 marketing agencies, public relations firms, and brands that subscribe for the service (for a $145-per-user-per-brand monthly fee) can offer their products.
Path 101's Web-based technology, which has been in development since October 2007, analyzes data from thousands of resumes to gather information about what career paths look like in the real world—and what other opportunities and "next steps" might be out there for users.
Mr. O'Donnell told The Observer that the company is working on gathering a million resumes for their "resume genome project"—and encouraging users to contribute more to the site by taking personality tests and offering detailed information for their career advice network. All of that information will be more useful to recruiters and job-seekers than other sites like Monster.com or LinkedIn, according to Mr. O'Donnell.
Both companies went through a lengthy application process to receive NYC Seed funding. Mr. O'Donnell said presenting his company before NYC Seed's investment board, including Mr. Davis, made his company better.
"I think what Owen brings to the table is he is a really, really focused on metrics, the business plan the revenue plan. You might have somebody who knows you really well, as a character, but really doesn't know how to ask you the tough questions about your businesses. He's extremely thorough, and kind of kicked ourselves in gear, to make us plan for things and look ahead."
Mr. Davis told The Observer in October that certain ideas intrigue him based on Internet market trends.
"A very interesting area is perishable information," he said. "How do you start organizing it and mining it?" For example, new micro-blogging sites like Twitter offer small bursts of information from all kinds of experts. "If someone is able to capture that information and organize it, it can be much more valuable," he said. "Like, live video. That's valuable, but it can just go away and disappear if someone doesn't find a way to organize it."
So which other ideas seem interesting (and profitable)? Location-based, mobile content, like applications for iPhones and BlackBerrys, and social media and trend-tracking for advertisers, marketing companies and brands interest Mr. Davis. So does new, Web-based software for old-school industries—for instance, new methods for doctors and dentist offices to organize appointments and billing.
Mr. Davis told The Observer that NYC Seed will announce investments in more companies in the next 30 days.