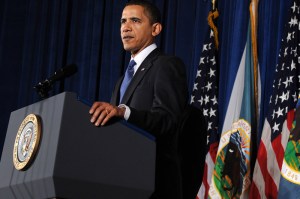 It should go without saying that the $3.6 trillion budget Barack Obama submitted to Congress last week will be subject to countless tweaks, trimmings, slashings, and wholesale alterations as it winds its way toward enactment.
And, unlike the stimulus fight that defined the early weeks of Obama's presidency, this time many Congressional Democrats will feel free to criticize the plan and withhold their support until and unless it is modified to their satisfaction—a reality that has already become apparent, with 14 moderate Senate Democrats (along with Joe Lieberman) meeting earlier this week to grouse over the budget's hefty price tag and map out a response.
But there's another key difference this time around, one that works decidedly in Obama's favor: There will be no filibuster in the Senate. Ironically enough, Obama has a 13-year-old Republican maneuver—one bitterly opposed by Democrats—to thank for this.
It was in 1996 that Senate Republicans introduced a budget that radically expanded the use of the reconciliation process. Unlike every other piece of legislation that the Senate considers, reconciliation bills set a limit on debate time, guaranteeing that the bill will receive a simple up/down vote and making a filibuster impossible.
The use of reconciliation had actually begun with the passage of the Congressional Budget Act of 1974, which created the modern budget process guidelines. But because it represented such a sharp break from the Senate's cherished tradition of unlimited debate, it was agreed that reconciliation could only be used for budgets that reduced the deficit. This changed in '96, though, when the Senate's majority Republicans packaged their budget in three separate reconciliation bills. One of them was dedicated to tax cuts that would increase the deficit.
Predictably, Democrats objected. Tom Daschle, then the Senate's minority leader, warned that "what goes around comes around," but the precedent was set. This decade, Republicans used reconciliation to pass George W. Bush's various tax cut initiatives, all of which raised the deficit.
Now, Obama is launching his own push for a budget that will drive up the deficit, and he, too, stands to benefit from the reconciliation process. The filibuster that the G.O.P. relied on to temporarily stall Obama's stimulus plan and that allowed three Republican senators to dictate the terms of its passage will be off the table when the budget comes up, and the magic number for Obama will be reduced from 60 to 50 (with Vice President Joe Biden breaking any tie).
Recent history offers a powerful example of what a difference this breathing room can make for a president.
In 1993, his first year as president, Bill Clinton also pushed for a stimulus plan and a controversial budget. Granted, his $19 billion stimulus package was a pittance compared with the $787 billion behemoth that just cleared Congress, but it was similarly greeted with united Republican opposition, cries of wasteful spending and a G.O.P.-initiated filibuster in the Senate (where Democrats then held a 56-44 majority). Unlike Obama, Clinton was unable to coax any moderate Republicans into a compromise and his stimulus package officially suffered death by filibuster in April '93.
But when it came time to fight for his budget, a controversial plan that contained $241 billion in new taxes and another $255 billion in spending reductions, Clinton had more room to operate. Because his plan reduced the deficit, it was introduced as a reconciliation bill, instantly removing the filibuster threat.
This doesn't mean that winning passage was easy. Republicans dug in their heels on the budget with the same unity they showed in the stimulus fight. And moderate and conservative Democrats felt free to pile on, forcing some significant changes. For instance, to mollify Democrats from energy-producing states, Clinton withdrew a proposed tax on B.T.U. consumption.
On the night of the final House vote, the tally stood at 216-216, one vote shy of defeat and two short of passage (a 217-217 tie would have meant defeat). All 175 Republicans had voted no, as had 41 Democrats. But Clinton leaned heavily on the two holdout Democrats, Pennsylvania's Marjorie Margolies-Mezvinsky and Montana's Pat Williams, telling them that the fate of his presidency hung in the balance. Even though the budget was deeply unpopular (Republicans demagogued it as "the largest tax increase in the history of the world"), they both finally gave in and supported it. As Margolies-Mezvinsky cast her vote, House Republicans taunted her, singing "Bye-bye Marjorie." (In the '94 elections, she was, in fact, unseated, while Williams managed to hang on to his seat in a squeaker.)
The Senate vote was equally suspenseful, with all 44 Republicans lining up against it. They were joined by six Democrats: Alabama's Richard Shelby (now a Republican); Georgia's Sam Nunn; Louisiana's J. Bennett Johnston; Nevada's Richard Bryan; Oklahoma's David Boren; and New Jersey's Frank Lautenberg (the lone liberal to vote no, Lautenberg was up for reelection in 1994 and the voters of his state had staged a tax revolt in the early '90s). Last-minute suspense erupted when Nebraska's Bob Kerrey, who was assumed to be a yes vote, suddenly expressed grave reservations and threatened to vote no.
After a day of pleading from his Democratic colleagues (chief among them New York's Daniel Patrick Moynihan) and the White House, Kerrey finally relented and, with much of the nation watching, took to the Senate floor and declared: "President Clinton if you are watching now, as I suspect you are, I tell you this: I could not and should not cast the vote that brings down your presidency." (Many suspect that Kerrey was motivated as much by pique as policy; he and Clinton had both sought the 1992 Democratic nomination and the contest between them turned bitter and personal.) With Kerrey on board, Vice President Al Gore then stepped in and broke the 50-50 tie in favor of the Clinton budget.
That '93 budget, scorned by Republicans at the time as a recipe for economic catastrophe, helped restore the market's confidence in Washington's ability to manage its books and laid the foundation for the robust growth and diminishing deficits that defined the next seven years. Without reconciliation, it might well have been watered down to a point that destroyed its effectiveness.
Something similar may be at work now. Sure, Obama will have to make concessions, some of them significant. But with healthy majorities in both chambers, he'll be at the mercy of Democrats, not Republicans.