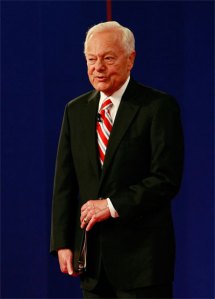 This weekend, President Barack Obama will be making his first appearance on a Sunday morning public affairs program since taking office. But he won't be doing it on NBC's top-rated Meet the Press.
Rather, he'll be appearing on CBS's Face the Nation with Bob Schieffer
Last week, Mr. Obama gave an extensive one-on-one interview to CBS's Steve Kroft on 60 Minutes. Thanks to Mr. Obama's appearance, the Sunday night newsmagazine put up its best numbers of the year so far, attracting 17.04 million total viewers and catapulting the show into fourth place in all of television for the week, according to Nielsen's rankings.
Mr. Obama's choice to appear on Face the Nation rather than Meet the Press will no doubt create more anxiety among those inside NBC who are already worried that Meet the Press may be gradually losing its Sunday morning dominance under David Gregory, who took over moderating duties this past December.
Last week, Newsday's Verne Gay wrote that the president's decision to bypass Meet the Press for an appearance on NBC's Tonight Show with Jay Leno "would seem like a massive diss of new host Gregory."
"Under Gregory, Meet the Press simply doesn't feel like the force it was under his legendary predecessor, Tim Russert, who died last June," wrote Mr. Gay.
The president's decision to spend Sunday morning across from Mr. Schieffer rather than Mr. Gregory will only serve to sharpen the contrast.