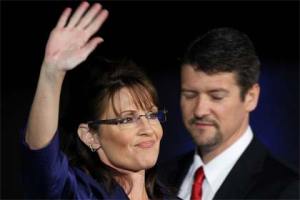 Just how meaningless is a new poll that gives Barack Obama a commanding 20-point lead, 55 to 35 percent, over Sarah Palin in a hypothetical 2012 match-up?
For the answer, let's look at some early polling in recent presidential elections.
For example, it's almost comical to look back now at the earliest 1996 trial heats, conducted in the first months of Bill Clinton's presidency in 1993. As odd as it now seems, that time actually coincided with what were arguably the most successful days of the political career of Ross Perot, the Texas billionaire who had run as an independent in the 1992 campaign.
Perot had burst onto the scene in February '92, when he promised on Larry King Live to run if volunteers put his name on the ballot in all 50 states. The market was ripe for his folksy can-do populism, and by the late spring he was running ahead of Bill Clinton and George H. W. Bush in national polling.
Then, as media scrutiny intensified and his numbers began to ebb, Perot abruptly backed out of the race, only to re-emerge at the end of September, a saga that badly eroded his credibility. But he won his way back into the public's good graces with a series of strong debate performances and some very original 30-minute infomercials and finished with nearly 20 percent of the vote on Election Day—a massive improvement from the single digits he was registering in polls when he jumped back in the race.
The momentum from Perot's monthlong campaign carried over to the post-election period. He launched a grass-roots group called "United We Stand America" to maintain visibility and, with Republicans locked out of the White House and in the minority in the House and Senate, Perot emerged in the spring of 1993 as the de facto national opposition leader. In June '93, one of the first hypothetical '96 polls showed Perot running even with Clinton, with 35 percent each, while Republican Bob Dole lagged far behind with 25 percent. (Against the other G.O.P. heavyweight of the time, Jack Kemp, Perot pulled ahead of Clinton, 38 to 37 percent, with Kemp at 20.)
Republicans began panicking. Perot's supporters had, disproportionately, voted Republican in the past, and they liked him far better than any Republican leader. Either Perot would run as an independent again in '96 and sentence the G.O.P. nominee to irrelevancy or—even worse—he'd simply decide to seek the Republican nomination himself, and take it.
But all the hype was for naught. In the fall of '93, Perot appointed himself the leader of the campaign to stop the Clinton-championed North American Free Trade Agreement, which was then before Congress. At first, Perot's popularity seemed likely to derail NAFTA. But then the White House dispatched Vice President Al Gore to meet him in a debate on, where else, Larry King Live. Caught off guard by Gore's prosecutorial efficiency, Perot unraveled on live television (with a record-setting audience tuning in). NAFTA passed with ease, Perot's numbers plummeted, and barely anyone noticed when he waged another independent campaign in '96—and finished with just 8 percent.
Other early trial heats now seem similarly absurd. In January 1989, with George H. W. Bush's presidency in its infancy, ABC News conducted the first poll of the 1992 Democratic presidential contest. The front-runner: Ted Kennedy, with 26 percent, followed by Mario Cuomo at 19 percent; Michael Dukakis and Jesse Jackson with 15 percent each; Al Gore at 6; Bill Bradley at 5; and Dick Gephardt at 4. (Oddly, ABC didn't include Lloyd Bentsen, whose 1988 put-down of Dan Quayle made him a hero to many Democrats , in the survey.)
Not a single one of them ended up running in '92. Some were never really interested in the first place—this marked the fifth time that Kennedy had been declared the initial front-runner for a future presidential race, but only once in that span (1980) did he end up running (and that was the one campaign in which wasn't the initial front-runner)—and others were ultimately scared out in the spring and summer of 1991, when the triumphant afterglow of Desert Storm inflated Bush's approval rating to nearly 90 percent. No one in early '89 could possibly have imagined that Clinton, Paul Tsongas, Jerry Brown and Bob Kerrey would end up being the four biggest players in the '92 Democratic mix.
The earliest polling for the 1988 Democratic and Republican races at least proved a little more reliable. Among Democrats, a May 1985 Harris poll showed that the initial front-runner—as usual—was Kennedy, with 27 percent. Gary Hart, who'd nearly wrested the 1984 nomination from Walter Mondale, was second with 24 percent, followed by Cuomo (14 percent, courtesy of the '84 convention speech that made him a national name), Bradley (6) and Texas Governor Mark White (4). Kennedy and Cuomo ultimately passed on '88. In this case, Hart's support endured and expanded over the next two years, and when Kennedy and Cuomo made it clear they wouldn't run, Hart stood in early 1987 as the overwhelming front-runner—a perch he promptly lost in a sex scandal.
For the Republicans, Bush was the clear front-runner in early '85 polling, followed (distantly) by Bob Dole and (even more distantly) Jack Kemp—a pecking order that actually held up through '88. This isn't too surprising, though, since Bush, a sitting vice president, was Reagan's heir apparent. (Similarly, one of the first polls for the 2000 Democratic race, taken in early 1997, gave Gore a 41-point lead over second-place Bradley—a lopsided result that would be duplicated when the two actually ran against each other in the '00 primaries.)
The first numbers for the '00 G.O.P. race hold up better, with an August 1997 poll giving Texas Governor George W. Bush an early advantage over Elizabeth Dole, Kemp and Quayle. The man who ultimately emerged as the chief threat to Bush's nomination, John McCain, wasn't included, but Bush's initial strength in '97—impressive considering that the '00 race was seen as wide open, with no obvious next-in-line contender—proved telling. His bandwagon steadily grew, and by '99 he was the dominant front-runner, strong enough to withstand McCain's late charge.
All of which suggests that Obama's numbers over Palin will hold up, unless they don't.