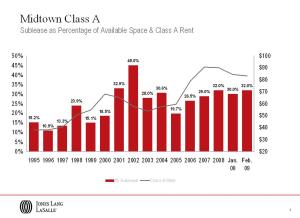 The supply of sublease space in the Manhattan office market has jumped 50 percent in the last 18 months, lurching ever closer to the sublease highs of the last recession, between 2001 and 2004, according to the latest numbers from commercial real estate brokerage Jones Lang LaSalle.
In fact, at the end of 2008, JLL reports that there were nearly 12 million square feet of available sublease space, four million of which were added to the market in the time between July 2007 and last December.
Jim Delmonte, JLL's New York director of research, anticipates that square footage to swell in the coming months.
"While layoffs were announced throughout 2008, sublease options did not begin coming to the market until the latter part of the year," he said in a statement. "We anticipate Manhattan will see rising levels of sublease space into at least mid-year 2009."
During the last downturn in the market, the sublease supply soared to 14.4 million square feet.
Needless to say (in fact, this is rather tautological), tenants are throwing sublease space on the market just as the demand for such space drops off. JLL reports that, in the same 18 months that sublease supply grew 50 percent, leasing volume dropped 41 percent.