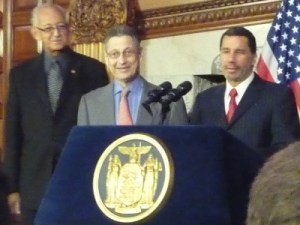 ALBANY—So after all that, no one-house budgets this week?
"We're holding off on the one-house budget resolutions in deference to doing a real budget on time," Assembly Speaker Sheldon Silver told reporters after announcing an agreement to roll back nuisance taxes. "I think it's our responsibility now to come up with a unified position. We want to see if we can do that before we get to putting out different philosophies."
Senate Majority Leader Malcolm Smith nodded in agreement. There has been question about what his chamber would be able to put together by week's end. It looks like the answer may be nothing.