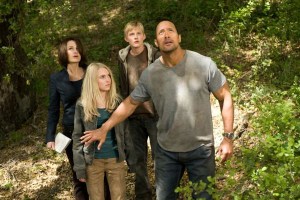 To give you an idea of how badly things have been going for the people behind Watchmen, allow us to introduce you to the film's screenwriter, David Hayter. Earlier this week, in an open letter to the fans, he actually resorted to outright begging to get people to see his film, again. Said Mr. Hayter: "You have to understand, everyone is watching to see how the film will do in its second week. … [I]f you're thinking of seeing it again anyway, please go back this weekend, Friday or Saturday night. Demonstrate the power of the fans, because it'll help let the people who pay for these movies know what we'd like to see. Because if it drops off the radar after the first weekend, they will never allow a film like this to be made again." We weren't marketing majors, but we're not sure groveling is the best way to sell a movie. More important, the strategy won't work. Even the most optimistic projections have Watchmen falling 60 percent from its opening weekend tally, a drop that would put the film's total gross at just under $95 million dollars by Monday. At that rate, it would be a tough slog for the film to earn even $130 million. Meanwhile, as Watchmen sputters along like a car filled with bad gas, the rest of Hollywood is gearing up for another loaded weekend. Four new films hit the multiplex, and, as usual, there is something for everyone. Here's a handy guide to the weekend releases.
Race to Witch Mountain
What's the story: Memo to the irresponsible parents who brought their five young children to see Watchmen last Sunday afternoon at Lincoln Square (we saw you!): This is the movie you take your kids to see! Race to Witch Mountain is poised to be yet another feather in the cap of Dwayne Johnson, as he blazes along towards superstardom by starring in Disney movies. In the latest, the former WWE wrestler plays a Las Vegas cab driver charged with protecting two alien teens from a secret organization looking to capitalize on their powers. The lovely Carla Gugino co-stars, and we can only hope she's treated better here than she was in Watchmen.
Who should see it: Triple H.
The Last House on the Left
What's the story: A remake of the 1972 Wes Craven film of the same name, The Last House on the Left is the type of horror film that can be summed up in three words: rape, torture and disembowelment. Call us crazy, but we think we'll pass.
Who should see it: Jason Voorhees.
Sunshine Cleaning
What's the story: From the producers of Little Miss Sunshine, Sunshine Cleaning (no relation) made a splash at the Sundance Film Festival back in 2008 and finally hits theaters this weekend ready to make good on all its indie promise. Amy Adams and Emily Blunt play believable-looking sisters who start their own business—they clean up crime scenes—to make ends meet in this small tale of family disfunction. Academy Award-winner Alan Arkin co-stars, proving that he indeed favors movies with "Sunshine" in their titles. The reviews have been pretty solid, with our own Rex Reed proclaiming that Sunshine Cleaning is "not a great movie, but disarmingly entertaining." Sounds good to us!
Who should see it: Isla Fisher.
Miss March
What's the story: On the eve of his prom, a high school geek gets hit on the head and goes into a coma right as he's about to consummate the relationship with his virginal girlfriend. When he wakes up four years later, he finds out the girl is now a Playboy Centerfold and is determined to win her back. If you've been waiting for a movie based on "Centerfold" by the J. Geils Band, this is your lucky day.
Who should see it: Kendra, Bridget and Holly from The Girls Next Door.