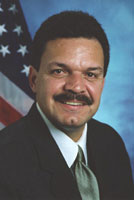 ALBANY—There's at least one legislator unhappy with the death of the fat tax: Assemblyman Felix Ortiz.
The Brooklyn Democrat – who just today called for a new tax on strip club admission (which, for the record, David Paterson said he does not support), says he is "disappointed and very concerned" by the repeal. He thinks the soda tax was necessary to curb obesity and diabetes.
"I do believe that is s setback from the health public policy perspective," Ortiz told me by phone. Several legislators attended the press conference this morning where the rollback was announced – he was not one of them.
I asked whether he thought the anti-nuisance tax climate bodes poorly for a proposal he hopes to unveil next week that would tax alcohol by the ounce.
"No, I think we may have a better opportunity next time," he said. "I really want to do a reduction of excess of consumption, and this is the best way to do it."
Ortiz has also called for the complete ban of alcohol ads on busses and subways.