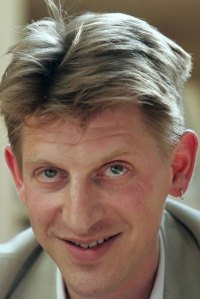 Not found time yet to digest Jonathan Littell's 992-page Holocaust novel, The Kindly Ones (Harper, $29.99), which won two major literary prizes when it was published as Les Bienveillantes in France in 2006? Confused by the fact that it was written in French by an American (a Yale graduate, no less) and then translated into English by someone else? (English rights sold for around $1 million.) Unsettled by the news that it's narrated by an unrepentant SS Obersturmbannfürher intimately involved with the Final Solution? Put off by Michiko Kakutani's vitriolic review in last week's Times? (She calls it "an odious stunt," and that's before she takes the gloves off.) Leery of a book fervently embraced by French critics, the same crowd that venerates Jerry Lewis?
Well, let me stir up these muddy waters with a selection of reviews, alternately ecstatic and apoplectic, from the British press. First, a Times vs. Times match-up that should leave your head spinning: Whereas Ms. Kakutani considers The Kindly Ones "a pointless compilation of atrocities and anti-Semitic remarks, pointlessly combined with a gross collection of sexual fantasies" (note the repetition of "pointless"), historian Anthony Beevor, writing in the London Times, flatly declares that it's "a great achievement to have made this horrific tale recounted by such a profoundly unsympathetic character so gripping"—and, in case you have lingering doubts, that it's "a great work of literary fiction, to which readers and scholars will turn for decades to come" (note the repetition of "great").
Not sure which Times to believe? Well, Peter Kemp, fiction editor of The Sunday Times assures us that The Kindly Ones is "so bloatedly inept that its reverential reception across the Channel seems barely comprehensible." He, too, wants to make sure we know how he feels: "[T]his Third Reich novel, for all its plethora of detail, carr[ies] as much conviction as a plastic Iron Cross"—which means, I guess that with the score two to one against, we'll have to wait for The New York Times Book Review to show its hand before we declare the four-way Times tournament a draw or a defeat for Mr. Littell.
To confuse matters further, some critics are themselves of two minds. Donald Morrison, writing in the Financial Times, zigzags deliriously: "The Kindly Ones … is revolting, overlong and far from lucid. But it is also erudite, pitiless and mesmerising." So what's the verdict? On the one hand Mr. Littell "leaves no dead horse unbeaten, no atrocity undescribed, no depth of depravity unplumbed. Little wonder The Kindly Ones is so exasperating"—but on the other hand, it's a book that "tries to ask the big questions. And fails magnificently." Andrew Hussey, writing in The Independent, is similarly conflicted: He calls it both a "deeply flawed work" and "an entertaining read" (two of the hoariest clichés from criticism's vast trove of worn-out phrases) before concluding, unhelpfully, that "it may not be 'Holocaust porn' but it is 'Holocaust kitsch.'"
George Walden knows exactly what he thinks, but he's mixed up about altitude. Writing in The Telegraph, he judges that "with its sex 'n' fascism horror comic theme, at heart this is a low, conventionally minded novel"—before pivoting neatly: "This is a work of high vulgarity and great cynicism, whose only attraction is its inadvertent humour." Thumbs down, I guess.
It may be wrong to wrap up so many contradictory assertions in a neat package, but I can't resist pointing out that although the prescient Mr. Walden's review appeared two years ago (when only the French edition was available), he and Ms. Kakutani settled on the very same adjective to describe Jonathan Littell's The Kindly Ones: "odious."