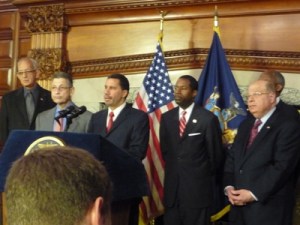 ALBANY—The taxes and fees David Paterson proposed in his budget, the type he has described as a "nuisance" and "regressive," are gone.
He announced with Democratic legislative leaders that he would use federal stimulus money for health care to roll back proposed taxes on "movie tickets, haircuts, health club memberships and digital downloads."
And oh yes, the "fat tax" is gone too.
"We didn't get to some of these taxes and fees that we added on to the budget until we were $13 billion in deficit," Paterson said. "In this budget, we can restore some of these basic inconveniences that we caused New Yorkers to endure."
"We are chagrined that we had to address those situations in the first place," he said. "We hope New Yorkers understand we don't address it out of insensitivity, but out of an attempt to balance our budget at a very difficult time."
He promised future budget cuts, but eliminating these proposals might take some popular pressure off him, and may even improve his standing in the polls.
While he was flanked by Assembly Speaker Sheldon Silver, Senate Majority Leader Malcolm Smith, Assembly Ways and Means Chairman Denny Farrell and Senate Finance Chairman Carl Kruger, Paterson fielded all the questions. He was asked whether, given these rollbacks, there was any realistic possibility that a proposal fomenting in the legislature to raise taxes on the wealthy would not be enacted.
"If I have anything to do with it, it's realistic possibility," Paterson said. Sheldon Silver has left open the door to such a proposal, and stood silently. Paterson did note that "everything is on the table only because we don't know where the floor of this crisis is."
The announcement was immediately criticized by the Healthcare Association of New York State, with President Daniel Sisto issuing a statement saying the money was intended for health care (it's being funneled through the Medicaid program) and the move is "out of step" with President Obama's intent.
"It is also puzzling how the state will eliminate taxes on soda and hair cuts, but leave in place a proposed gross receipts tax on hospital patient care. The latter seems far more a nuisance tax than any other," Sisto said.
There is, of course, already minimal love between various healthcare lobbyists and Paterson.