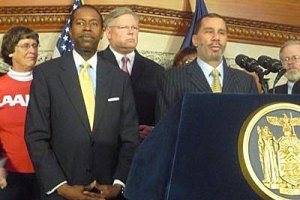 ALBANY—David Paterson said the M.T.A. board should go ahead with raising fares at its Wednesday board meeting, implicitly admitting that state government will not enact a revenue package to mitigate fare hikes beforehand.
"I don't think that the agency should delay any action," Paterson just said at a Red Room press conference.
Yesterday, he said he was "not really optimistic" that he and lawmakers would reach an agreement on time. When asked if he was meeting about an M.T.A. bailout in the next 48 hours, Paterson repeated that he's been "trying to reach an agreement for the past several weeks."
Paterson was standing between Senate Majority Leader Malcolm Smith and Assembly Speaker Sheldon Silver during a press conference announcing extended prescription coverage.
A reporter asked Paterson if he felt he had failed.
"No, I think it's an aspect of government that we all have to recognize: these two gentlemen run conferences in the legislature that need consensus and the three houses have to agree," he said. "Ascribing any kind of blame to one sector of the triad is often a way that people try to explain it, but you've got to have consensus. That's the way our democracy works."
Except, of course, when he was talking about Malcolm Smith's plan last week. His conference put forward a plan that Silver called a "stopgap" and that Paterson rallied advocates to decry at a press conference last week.
State senators met on Sunday evening, but mostly discussed the budget, they said.
In the Red Room, Smith said nothing on the topic.