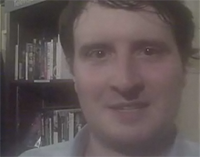 The Penguin Press, which has been one pair of hands short since Vanessa Mobley's departure at the end of January, has hired Nick Trautwein of Bloomsbury to edit nonfiction.
Mr. Trautwein, who came to publishing from magazines, has been at Bloomsbury since 2006; while there, he edited such titles as Edmund White's A Boy's Life, Garry Kasparov's How Life Imitates Chess, Kingsley Amis's Everyday Drinking, and The Macrophenomenal Pro Basketball Almanac by the blogging collective Free Darko. Before that, Mr. Trautwein was an assistant under Harper editor David Hirshey, working on books like Seymour Hersh's Chain of Command and Buster Olney's The Last Night of the Yankee Dynasty in addition to becoming known for having some of the best copyediting chops in the business.
Mr. Trautwein leaves Bloomsbury at a moment when the house is beginning to regroup from a turbulent year during which its longtime publisher, Karen Rinaldi, and its editor in chief, Colin Dickerman both decamped for Rodale Books amid financial uncertainty.
"I've known about him for a while, but mostly became aware of him as we went into this process," said Ann Godoff, president and publisher of Penguin Press, referring to the search undertaken at Penguin Press over the last month or so to find a replacement for Ms. Mobley. During that period, former associate editor Laura Stickney was also promoted to full editor.
"He's an old-fashioned editor with a young mind," Ms. Godoff said this morning of Mr. Trautwein. "I think he's a roll-your-sleeves-up editor, and that's enormously attractive."
She added: "He knows the difference beween a magazine story and a book-length opportunity, and I think that's right up our street, given that the balance of our list is very much nonfiction."
Bloomsbury publisher George Gibson, who took over the house last July, was not available for comment.
Mr. Trautwein did not immediately return a call to his office at Bloomsbury. He starts at at Penguin on April 6.