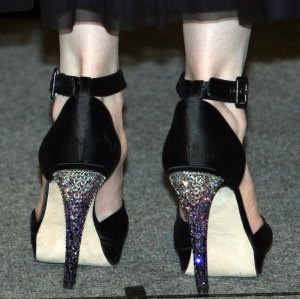 Fresh off her recent misdemeanor assault charge, comely fashion writer Kelly Bensimon arrived at the Openhouse Gallery in Soho on Thursday night, March 19, wearing a pair of striking black heels that lace up the leg.
"I love putting them on!" gushed Ms. Bensimon, co-star of the Bravo reality series The Real Housewives of New York City. "Look, the little bow!"
The fancy footwear was appropriate. Ms. Bensimon was there for a party celebrating the limited-edition release of designer Brian Atwood's new book, Role Play Rene. The book features Tony Duran photographs of the actress Rene Russo wearing Mr. Atwood's various shoes and, according to a press release, "embodying the power of the woman she portrayed in Thomas Crown Affair." Blown-up images from the book were hung throughout the expansive gallery on Mulberry Street.
"Brian's from my home town," noted Ms. Bensimon, an Iowa native. "When I found out he was showing here, I was like, 'Welcome to the neighborhood!'"
Socialite Olivia Palermo snaked through the crowd of snapping cameras in a pair of 6-inch olive-colored heels. "Of course these are Brian's," Ms. Palermo said. "When you find a good shoe, they are an investment—they'll take you anywhere!"
At the center of the room, the designer Mr. Atwood, his younger brother Zachary Stemer and his partner, Nate Berkus, of Oprah Winfrey Show fame, had the floor for photos.
"There's been a lot of buzz about the girls that wear his shoes being very culty about them," Mr. Berkus later told the Daily Transom. "It's nice to see New York turn out for [Brian's] work, for something that's not advertised all over the place every day. We're two very creative people, very much in line with our own goals, our own vision. It's great to see his project come to life like this."
At that point, a barrage of blondes broke through the party, through a curtain of camera flashes. Headlining the group was the socialite Byrdie Bell, the co-host of the evening. "I would love to talk to you about anything except questions," Ms. Bell said, before being carted off for a photo shoot of her shoes.
Toward the end of the party, designer Dani Stahl made an appearance. She was not wearing heels. Her boots? Not Mr. Atwood's.
"I'm wearing Miu Miu," Ms. Stahl said. "I would wear him, though!" she added. "I would!" she insisted, looking off in Mr. Atwood's direction and raising her fist, triumphantly: "I will wear him!"