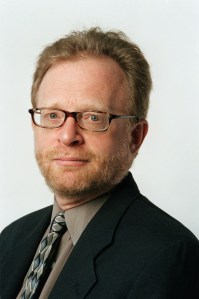 Sam Tanenhaus, editor of The New York Times Book Review and the Week in Review section of the paper's Sunday edition, is turning his recent New Republic cover story, "Conservatism is Dead: An Intellectual Autopsy of the Movement," into a book-length manifesto. The book will be published this fall by Random House, which also put out Mr. Tanenhaus's last book, about Whitaker Chambers, and has him under contract for a biography of William F. Buckley.
According to Random House veteran Bob Loomis, who is Mr. Tanenhaus's editor, the book will take the form of a slightly expanded and restructured version of the 6,650-word magazine piece that came out in The New Republic in early February. In that piece, Mr. Tanenhaus argued that the 2008 election had brought movement conservatism to an end, while sounding a hopeful note on behalf of "authentic conservatives" who are now in a position to recover "their honorable intellectual and political tradition."
"The article appeared and I read it and we talked about it, and then we thought, 'Let's do this!' And then we had to figure out what he'd need to do," Mr. Loomis said, noting that the deal was done about two weeks ago. "Then I had to take it to people here, and I had to get a contract with his agent [Andrew Wylie]. There's a lot of little business to do to get things like this going."
Mr. Loomis said that Mr. Tanenhaus's slim volume will be called The Death of Conservatism, but that a snappy subtitle is in the works. According to the Random House Web site, the book will retail for $17.
Mr. Tanenhaus is entering what many anticipate will be a crowded marketplace. Will Weisser, associate publisher of Sentinel, the conservative imprint of Penguin Group USA, said he expects to see a tall stack of books on the future of the conservative movement in the coming months and years.
"I would not be surprised if many conservative thinkers are working on books of this sort," Mr. Weisser said. "There's a clear hunger for direction for the conservative movement in the age of Obama."
Mr. Loomis said that Mr. Tanenhaus, who essentially has two full-time jobs at The Times, would probably have to find a way to focus his energies at some point on completing the Buckley biography, which was originally due to Random House in 2005 but was put "on hold" when he took over the Book Review in the spring of 2004.
"We're hoping that will happen in the not-so-distant future," Mr. Loomis said. "The Buckley book really has to be written not a little bit now and a little bit later—it has to be done in a continuous stretch to make it work right."
New York Times spokeswoman Diane McNulty said in an e-mail that Mr. Tanenhaus is "not taking time off at all except for normal scheduled vacations."
Mr. Tanenhaus responded to requests for comment.