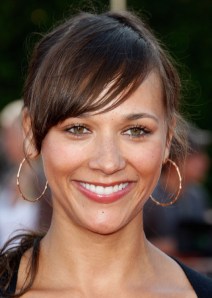 Rashida Jones is kinda having a moment. The beautiful daughter of Quincy Jones and actress Peggy Lipton is a proud part of the No. 1 comedy in America, I Love You, Man; she's a co-star on the highly anticipated Parks and Recreation, which debuts on April 9—poor test screening results be damned! And just this week, she sold her first screenplay, the snappily titled Celeste and Jesse Forever, which she co-wrote with actor Will McCormack (Brothers and Sisters). Fox Atomic picked up the rights to the script, which finds a young married couple going through a divorce whilst trying to remain good friends — Ms. Jones is also set to star.
While on face value, the premise of her first screenplay sounds simultaneously hackneyed and played—some variation of this "make the best of it!" comedy has littered cinemas in the last few years, from The Break-Up to What Happens in Vegas—we're more than willing to give Ms. Jones the benefit of the doubt. She's proven to be a highly intelligent comedienne, and that's not just because she graduated from Harvard; time and again in her screen roles, Ms. Jones has shown herself to be an adept manipulator of prior expectations. On The Office, she turned Karen from "the other woman" into a wonderful, funny and sympathetic person—we still think Jim should have chosen her instead of Pam. Meanwhile, in I Love You, Man, she takes what is ostensibly "the girlfriend" and imbibes her with believability and empathy, when the character could have easily veered off to become nagging and irrational. For reference to the latter, see Katherine Heigl in Knocked Up.
Granted, being an excellent actress doesn't mean that Ms. Jones will also be an excellent screenwriter, but we have faith that the choices she's made for her screen work will translate well onto the page. Not surprisingly, she seems to understand female characters in a way that most male comedy writers clearly do not. We don't know if she'll ever be allowed into "The Fempire" alongside Diablo Cody, Dana Fox, Lorene Scafaria and Liz Meriwether (here's hoping she isn't), but in our minds, the more females there are writing comedies, the better. In the meantime, we'll be crushing on Ms. Jones, the actress, when Parks and Recreations premieres in two weeks.