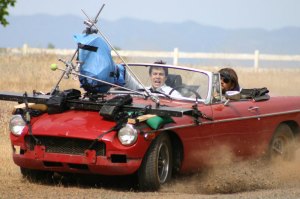 Sherman's Way
Running time 97 minutes
Written by Tom Nance
Directed by Craig Saavedra
Starring James Le Gros, Michael Shulman, Lacey Chabert
Craig Saavedra's Sherman's Way, from a screenplay by Tom Nance, manages to be a road movie that never gets very far because it keeps going around in circles. It is also that rare movie in which the top-billed actor does not play the title character, which is to say that James Le Gros' Palmer "the Bomber" Van Dyke seems to be for the longest time the clownish comedy relief for Michael Shulman's stiffly nerdish and overly ambitious Sherman Black, a Yale graduate chasing a ritzy legal internship in Beverly Hills after breaking up with his two-timing girl friend, Lacey Chabert's Marcy Delang. He hitches a ride with Palmer, and the first thing Sherman does is lose his wallet, which produces all sorts of complications, but nothing terminally serious.
By the time they reach a small California town to repair a problem with their car, they meet Brooke Nevin's Addy, a beautiful free spirit destined to become the love of Sherman's life.
To tell the truth, I had trouble following the Sherman-Palmer itinerary from east to west—or was it north to south? But I did pick up on some of the philosophizing about what life was supposed to be all about, and there is always some humor in the efforts of a stiff snob to unbend enough to become a human being. Ms. Nevin, by the way, is a real find.
asarris@observer.com