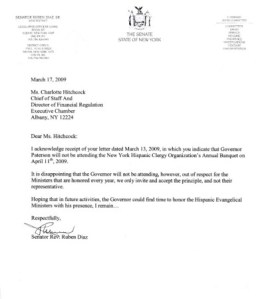 ALBANY—State Senator Ruben Diaz Sr. is being difficult again.
Diaz Sr. sent this letter to David Paterson's office after the governor's staff offered to send a representative to the New York Hispanic Clergy Organization annual banquet instead of attending in person, like he did last year.
"I was disappointed. I think that the Hispanic ministers deserve the governor's presence," Diaz Sr. told me. "Maybe it's because I'm criticizing his budget. But that's okay. Maybe other people will come."
Paterson's office said that was not true, and "the governor attended the event last year but was unable to this year because of his schedule."
"I'm hoping that he changes his mind, and that he will find time in his schedule to come by and say hello," Diaz said.
His Thanksgiving celebration, held at the height of the leadership struggle in the chamber, was very well attended.