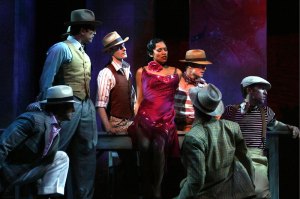 It doesn't take a genius to know that what we need right now is a tonic. And what would do the trick better than Guys and Dolls, the greatest love letter ever written to New York City? The show is so good, Adam Gopnik enthused in a recent New Yorker, that it could be a hit even if it were performed by "a company of trained dolphins in checked suits with a chorus of girl penguins."
If only that were true! It's sad to report that the revival of the iconic 1950 Guys and Dolls, currently hitting us over the head with a meat cleaver at the Nederlander on Broadway, is extraordinarily disappointing. Whether the show will be a hit, only Mr. Gopnik's penguins can say. The numbing effect it had on me was akin to listening to a fabulously witty story you adore being retold by someone with zero sense of humor.
No matter that the director, Des McAnuff (of Jersey Boys, The Who's Tommy), has book-ended the botched production with a confusing image of Damon Runyon hunched over a typewriter, at work on—what? Guys and Dolls? The musical itself—with its hokey, fun book by Jo Swerling and Abe Burrows, together with Frank Loesser's gem of a score—owes only snatches of its plot directly to Runyon (except for "The Idyll of Miss Sarah Brown"). The show's wellspring is the romantic old Broadway of Runyon's lowlife guys and dolls, with their mannered argot and the elaborate politesse that gives gangsters class.
As Harry the Horse puts it to that lovable no-goodnik Nathan Detroit, "Nathan—if there is no crap game tonight I am sure Big Jule will be considerably displeased; and Big Jule does not like to be displeased, as you can find out from those citizens who at one time or another displeased him. Although I will admit it is very hard to find such citizens in view of the fact that they are no longer around and about."
The key to any production of Guys and Dolls is the subtitle, A Musical Fable of Broadway. Yet the new production has inappropriately rooted its aggressive visual style in grim reality. The dominating gray iron trusses of set designer Robert Brill's blighted New York cityscape are jarringly industrial. The only color I recall (apart from Paul Tazewell's so-so costumes) is the brutalist neon signage overpowering each side of the stage and part of the auditorium.
In vividly colorful contrast, Jerry Zaks' 1992 revival of the show—which has rightly passed into legend—was a high-water mark of stage fantasy by designer Tony Walton and his creative team. Paying tribute to the hallowed 1950 designs of Jo Mielziner and subsequently those of Oliver Smith (for the lesser 1955 screen version), Mr. Walton's painted, Matisse-like backdrops created their own remarkable genre.
LET'S ADMIT THAT Runyon's Manhattan never really existed. Born in Manhattan, Kan., and raised in Colorado, Runyon created a romanticized version of his adopted city; Guys and Dolls, already a step away from Runyon, is itself nostalgic for a mythic Broadway. (Well, aren't we all?)
But any production of the show ought to have a certain style and period. This one's a mess: The busy video work is contemporary, the props period, and the cityscape images are loudly pro-forma archival. The costumes appear to be 1930s, but Sergio Trujillo's tense choreography presents a fiercely contemporary attitude.
The unfocused production, which ought to be easeful, assaults the audience. It's oversold, overproduced and overmiked. The brassy sound of the hidden onstage orchestra is at times ramped up way too loud. Yet Frank Loesser's unmatchable score possesses an innate street vitality that should speak (and sing and swoon) for itself.
Is there anywhere a lyric to beat "Adelaide's Lament," Loesser's paean to curing a psychosomatic cold? "You can spray her wherever/ You figure the streptococci lurk/ You can give her a shot for whatever she's got/ But it just won't work."
To be reminded of the title of more or less any Guys and Dolls song is to want to sing it:
Yes sir!
When you see a guy,
Reach for the stars in the sky,
You can bet that he's doing it for some doll …
The wit of the Swerling-Burrows book keeps pace with Loesser. "If she hears I am running the crap game she will never set foot on me again." "Don't worry, honey—one of these days I'll be in the money, and you'll have more mink than a mink." "She give a look that would have cooled off a moose at mating time." "Yes, it's too bad that a smart businessman like Nathan had to go and fall in love with his own fiancée."
Too bad also that so much of the dialogue is recited as if the cast were struggling with a foreign language. I'm not at all certain that a performer needs to be a born musical comedian to shine in Guys and Dolls. (Sam Levene made his musical debut playing Nathan Detroit in the 1950 production; a successful 1982 National Theatre production used well-known actors.) But the quartet of performers in the engine room of the current revival isn't sparking at all.